So yesterday I was asked if I fancied tagging along to Trier with my best friend yesterday and I jumped at the chance, because the german drugstores are just so much better than the only one that exists in Luxembourg.
Also Trier has a Claire's Accessories and I've been wanting to try out their false eyelashes for a while now.
So basically all I got was the Claire's eyelashes and then some MNY stuff (despite not being a big lover of the pale eyeshadows, I decided to give them another chance. and those nail varnishes looked cute)
As you can see, I have two varnishes of the same shade and that's because I liked the look of it and decided I'll add it to my giveaway (of course that won't be the main focus of it, it's just a little random something)
So here we have a nice metallic red from their Limited Edition
I am a jungle chick
collection. Honestly, the whole
I am a ______
line is really annoying, as they've been doing it with every LE collection, but I'm more interested in the products than the names, so I'll just let that slide. The nail varnishes cost 1.95€ each which is quite a decent price and I think these are quite good quality from various german blogs that I've read.
Next up are two eyeshadows, neither of which are limited edition and these too cost 1.95€. I haven't opened them yet as I'm debating whether or not to include one of them in the giveaway as well, so unfortunately no swatches.
Here we have the eyelashes from Claire's that cost £5.00 in the UK and 6.95€ here in Europe. These weren't even the biggest ones there and I got these because I've been wanting to experiment with falsies for a while now and the ones in Schlecker here cost about 10 euros yet look a lot worse than the Claire's ones.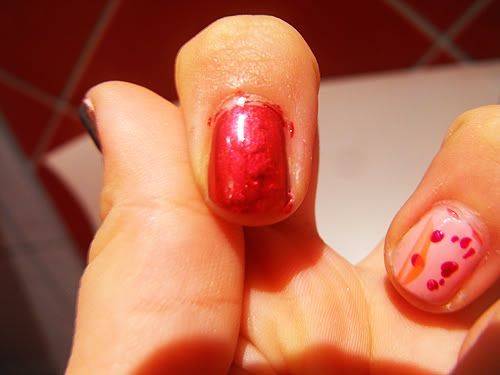 There you have two very messy and quick nail swatches of the two colours done, I'll try and do a NOTD for them at some point during the week.
And here we have a quick look with the falsies, which you can see are a bit long for my lashes. The eyeshadow and eyebrow are quite messy as I did this last minute at night so I could show you guys what they look like xx :)