YAY WE'RE FINALLY DONE! This is the final installment of the five Sephora Colorplay palettes and I'm pretty chuffed to have finally done it. Wow, that was a lot of
finally
s.
So the
Clubbing in Tokyo
palette is basically pastel colours, which means that the colours are okay at best as they're all pretty light.
You can sort of see the organisation of the palette here with one row being the darker colours and then the next row, each of those colours' lighter equivalents.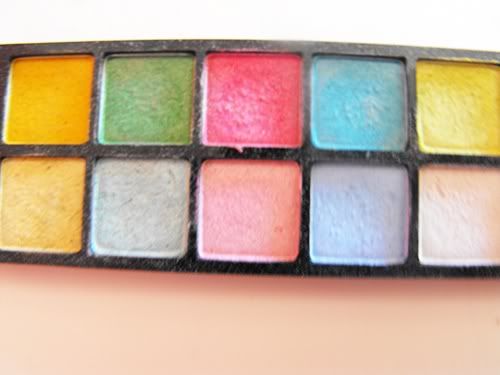 And also here we don't really have a specific colour range, just yellow, green, pink, blue and a yellow-green. Although the lighter green looks bluer than it should be.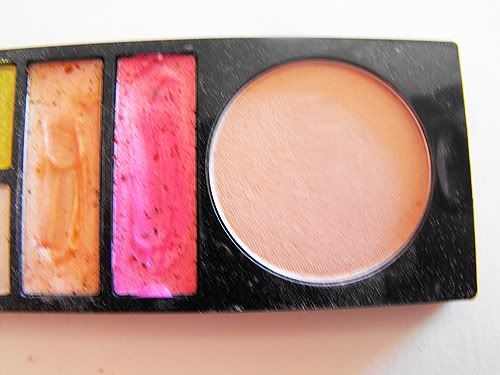 Again, fallout in the glosses...argh the colours are gorgeous though. Again with the pastel theme, a pale lipgloss and then a lovely bright pink, exactly what I love. The blush is quite light and I'm not sure whether it'd show up on my skintone, I had some difficulties with swatching it, actually.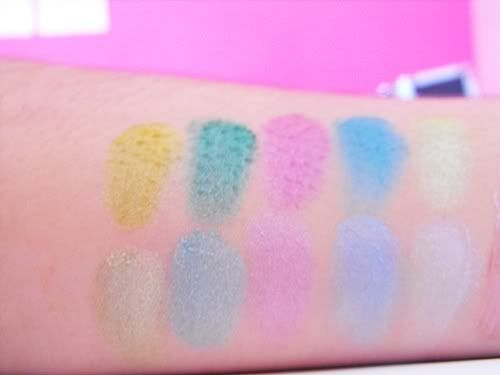 Wow, surprise here! The light colours are actually decently pigmented, which contradicts what I was thinking as the other palettes are poorer in terms of light colour quality.
The lipglosses are pretty good as well, as you can see the pale oneis quite sheer, so it wouldn't blank out your lips. As for the blush, here you can see how it's not very good at showing up on my skin.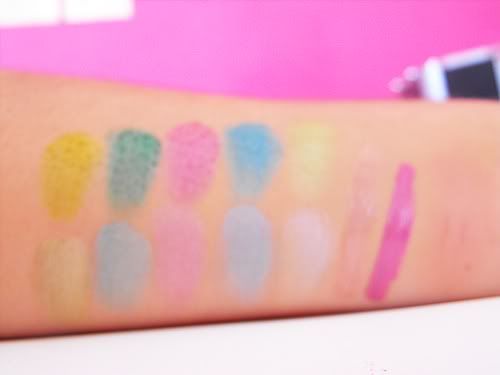 So that's it for the Sephora 5 in 1 palette! I've decided I'm now going to do some FOTDs with each palette, some of which will already be posted by the time this is published, so I hope you like them. Comments would be incredibly appreciated and would make you get a virtual cookie :) xx