Finally!
I know, it has taken me WAY to long to post a review of this, but I've just never been happy with my pictures up until now, so here we go!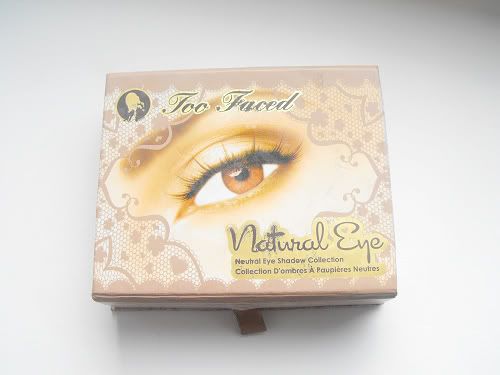 Ok, I'm still not completely pleased with the pictures as I don't have my Photoshop for the moment and have to settle with Paint Shop Pro, but as I'm a snob, I prefer Photoshop. So moving on, this is the Too Faced Natural Eye palette that is one of my must haves. I bought it in the summer in Boots for £23, I believe. And that hurt, trust me, I may have actually winced because usually I don't pay that much for one thing! I know, stingy, right? Oh well, at least I can say I haven't regretted buying this!
So here we have the back, it has a description of what the Too Faced Founder thinks a natural eye makeup is and all that jazz .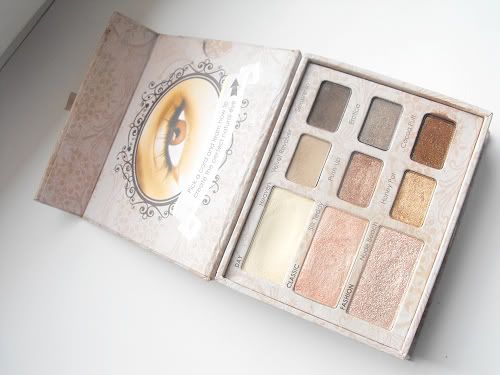 So upon first sight, this is a neutral makeup lover's paradise. You have the matte shades, the shimmer ones and then the glitter ones, so basically something for everyone! I have to admit, I don't really use the glitter ones that much, especially not the base as it's just TOO glittery, but more on that later.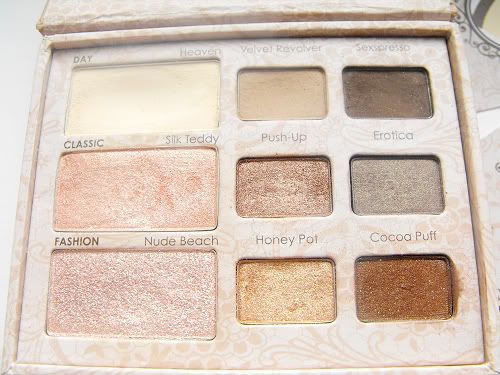 The Too Faced eyeshadow palettes have little cards with how to recreate the looks, which is nice as a hint if you're not entirely sure how to go about making looks with these eyeshadows, but it's no in-depth tutorial.
Starting with the day natural eye, this is the matte colours for a very nice subtle look, which I also find useful if you want to try the pin up look.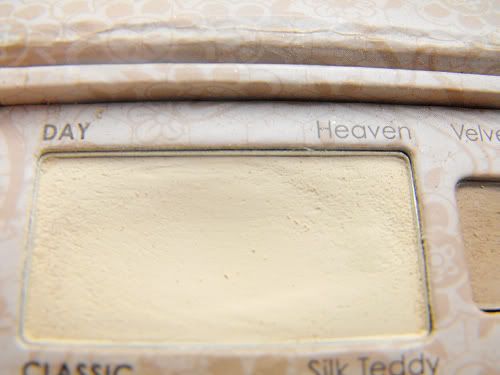 So the main colour that you're supposed to use all over is a cream shade called Heaven. I think it's leaning on the cool side, as are the rest of the matte shades, which doesn't always suit my skintone, so sometimes it can look a bit odd if I put this on my whole lid (not on it's own, of course!) so I mainly use it on my lid below the crease and as a highlight. It's a really smooth and pigmented shade, so it's a good thing they made it the main shade, I don't know what I'd do if it was as tiny as the others!
And here we have Velvet Revolver and Sexpresso. Also matte shades, I use both of these quite a lot, although more Velvet Revolver to blend in the crease for a nice subtle effect. Sexpresso is supposed to be used as a liner, but I'm not all that keen on using eyeshadows as eyeliners, so I tend to forgo that step. These are also quite pigmented, although when swatched over UD PP, Velvet Revolver gets a lot darker, which is honestly a bit strange, but it makes the colour show up better, which is good.
Next up is the classic natural eye which contains shimmery eyeshadows. Now I have to admit, despite ADORING the colours in this one, I haven't really used them that often. I really love the colour choice, but whenever I reach for the palette, I tend to go for the day look!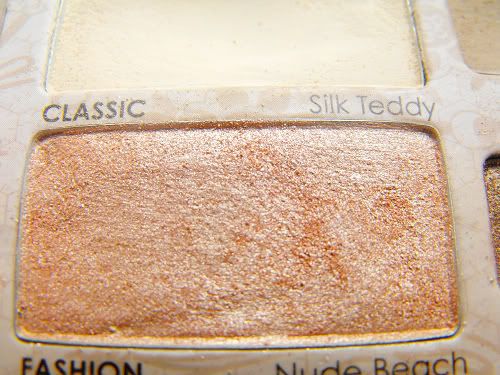 So the main shade is called 'Silk Teddy' and is a shimmery champagne shade, except a bit pinker than typical champagne colours. Again, it's really pigmented and smooth, although on the skin, it looks a bit lighter. I've got a couple of shades that MIGHT be dupes for this, but that remains to be seen so bear with me on this one!
Now these shades really make me question why I never use them! Push-up is just beautiful, as is Erotica yet for some reason I've never really used them. Anyway, these are also pigmented, the only tricky thing here is the fall out, and some tiny glitter particles, but then, I've yet to find a glittery eyeshadow that DOESN'T produce fall out!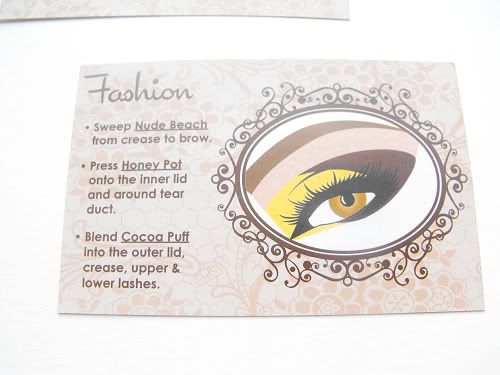 And finally, the 'Fashion' look. Now if you ask me, the card is a little misleading, as there is no way that that gold is yellow. But then, that's a tiny insignificant detail, so you can all just ignore that!
Nude Beach...unfortunately, my least favourite shades. It's just got so many chunks of glitter and whilst many people will like it, glitter just doesn't tickle my fancy. Aside from that, it's pretty pigmented and has quite big chunks of glitter. As for the colour, it's basically like Silk Teddy but a little cooler.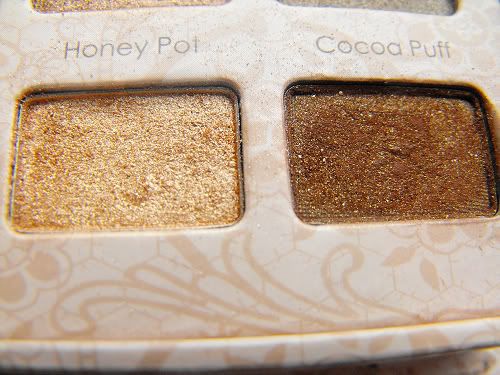 Honey Pot and Cocoa Puff are still glittery, but don't have as thick chunks of glitter as Nude Beach does. I use Honey Pot quite a lot, but I haven't always used Cocoa Puff, except for the time when I used both the day I did a film and the makeup artist told me the eyes were great and didn't change them. I can't even begin to tell you how rare that is, but then again it was a modern movie whereas most movies that I've done have been set in different eras (even medieval...but I won't get into that, the pictures are horrifying!)
As with the whole palette, these are also quite pigmented, although as with the other two shimmery shades, there is fall out.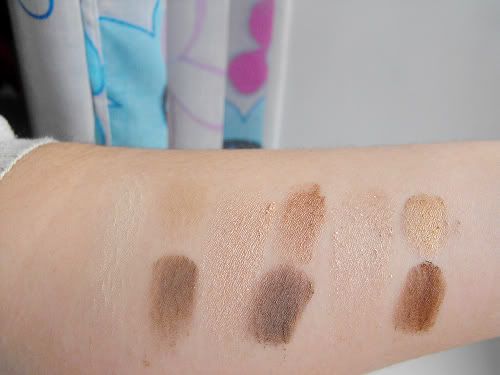 Here we have them all swatched without primer. As you can see, they're decently pigmented, although not superbly. And the swatch of Silk Teddy as a whole looks more shimmery than Nude Beach, but you can see that Nude Beach has these glittery chunks there.
And now with UDPP in Eden. First of all, the only shade that wouldn't swatch properly here is Heaven. To see what that one really looks like, the swatches without primer show the colour a bit better. As for the rest of them, well...the picture speaks for itself. Whilst it's a good palette without a primer, the primer really makes the colours pop and in some cases, darker (see Velvet Revolver and Sexpresso).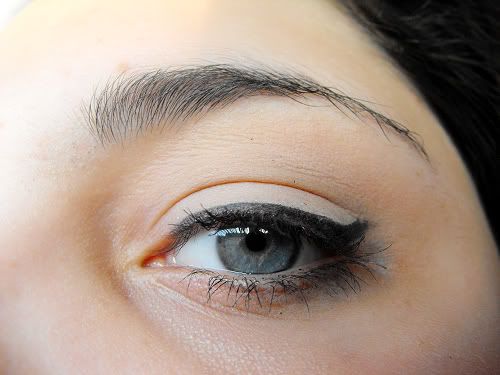 And here's a picture of my eye makeup from Friday, it's not the best photo, but it was the best that I got and here I used Heaven and Velvet Revolver in the crease. It makes for a very nice nude look and especially fantastic with liquid liner!
So all in all, if you adore natural matte/shimmery colours , you won't regret buying this. I use it a lot, although I need to start using the shimmery shades a bit more. I've used the day look loads of times and it hasn't hit pan yet, so you get a lot of use out of this :)
And on that note, I'll leave you all. I might be able to update on Wednesday, but that depends on how long it takes me to do my German homework for Thursday! (Why not just do it tomorrow?..Because I'm lazy, that's why:P)