Oooh another Sephora post..for someone who's not crazy about Sephora, I sure do have a lot of their products! Well this one is a little older and I saw it lying around in my box and thought 'Oh hell, let's see if this hasn't dried out!'
Ladies, I am proud to say that it is still functioning, although has dried out a little! This here as you can see is a metallic glittery liquid liner AND a mascara! it costs 9.99€ from what Sephora.fr tells me and I have to admit, that's not actually a bad price for what it is.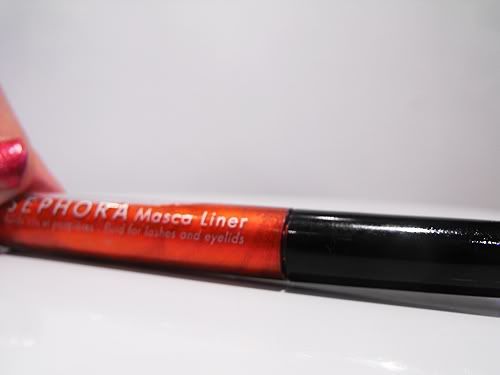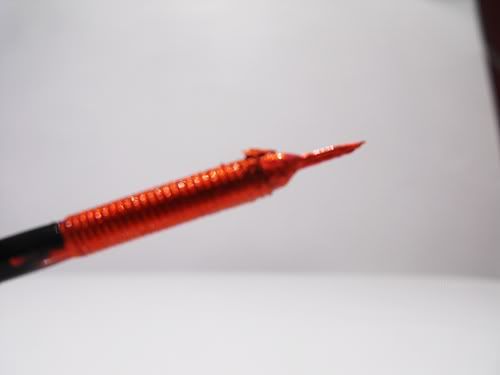 Rather odd applicator isn't it? Well there you have the bog standered brush for lining fixed onto the mascara part which has no form aside from the typical plastic mascara brush swirls.
The swatch is actually...fantastic, which surprises me. It's very pigmented, quite easy to apply (although be careful not to get your lashes red if you're doing your eyeliner, that's what happened to me as you'll notice in the next few pictures)
The colour itself is rather unconventional, as not many people go for red, but they have blue, pink, purple , green, gold and silver as well, so I think one of those will be added to my giveaway prize (yes I still haven't got everything yet, I know, I'm a procrastinator)
Unforutnately, I don't know tjhe shade this is in as the site only lists the other six and the writing's faded from the liner.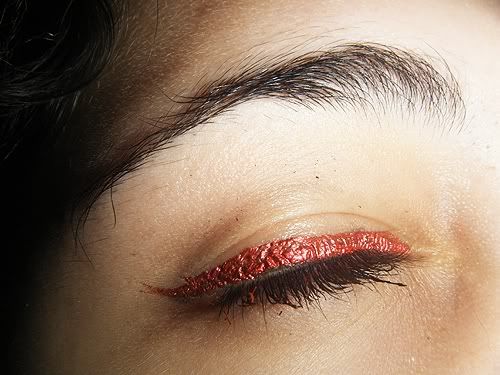 Here you have it as a liner, it's applied quite messily, but I was a bit impatient and wanted to get the photos done and then start with the FOTD I just posted.
Here you have it as a mascara and it is actually quite impressive. The colour payoff is incredible and ok, it doesn't give curl or length or any of that, but then to be fair, it's just a colour mascara.
All in all I'm very impressed with it and here's a picture of me from December 2008 with it on, during my rather more clashing colour days :)
The pose is rather unflattering and as you can see, that is my
sister
there, but this picture shows the red off very well :) I actually really like the contrast between the red and the blue here :)
xxxxx