Last week, whilst sick, I decided to spend the last of my film money on some treats that I just couldn't resist on
Zoeva
, a german online shop which I think is the equivalent to America's Coastal Scents.
And guess what the UPS man delivered today....? My goodies! First off, I have to recommend this brand, because they shipped it really quickly to my house (today was the third attempt...I wasn't expecting them to deliver it so quickly whilst I was still on holiday), although the shipping is about 7€, so quite pricey.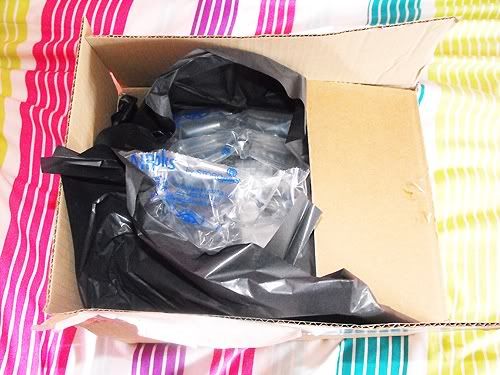 In my excitement, I was halfway through opening the package before I realised I should take some piccies.
I ordered their
28 Nude Eyeshadow Palette
(14.95€) and
Basic 12 Brush Set
(20€).
I'll start with the brushes and then go on about the Palette. The Brushes came in a black (leather? I've forgotten :P..bad naty) brush holder in an adorable velvet bag!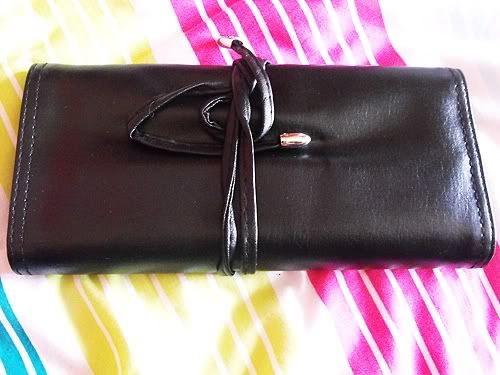 I love the packaging, it's simple but very professional looking.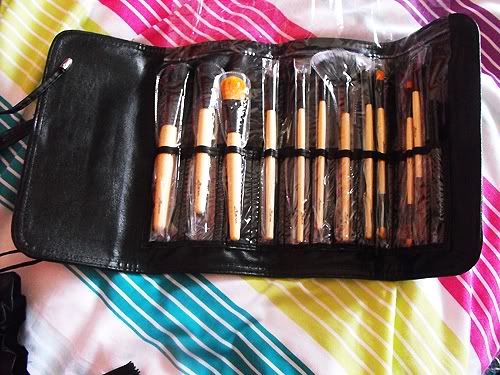 So in this set, you get (l-r) a powder brush, a slanted blush brush, a foundation brush, a short haired smudger brush, a small crease brush, crease brush, fan brush, small eyeshadow brush, double-ended eyeshadow brush, double-ended flat liner brush, double-ended eyebrow comb and brush and finally, a lip brush.
Just a side note, I'm not sure if those are the correct labels, I only have the names in German (and in no order, at that), so I've tried my best at translating them.
(l-r: top row powder brush, slanted blush brush
bottom row foundation brush, smudger brush)


First of all, WOW at the softness of these. I spent a couple of minutes just brushing the powder brush against my face, it felt so nice and using the powder brush to apply my blush (I didn't use the slanted one), it really picks up the blusher and applies it really well! I haven't tried the foundation brush or the slanted blusher brush yet, but they look to be just as good, but there was a drawback to the foundation brush... As for the smudger/blending brush, I used that in my crease and it really blended the shadow out well, so thumbs up for that!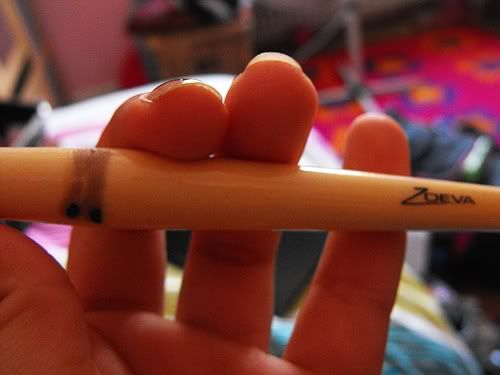 Yeah, it had some ugly marks on it and was sort of stuck to the plastic, but it was the only one so I'll just brush it off as a one off. Haha, sorry for that pun, I'm full of them lately!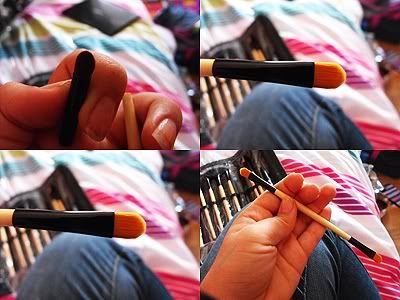 (l-r: top row eyeshadow brush, double-ended nylon eyeshadow pt 1 brush
bottom row
double-ended nylon eyeshadow pt 2
,
double-ended nylon eyeshadow
brush)
Yeah..this second pic of the eyeshadow brush shows what happened when I first picked it up, not that impressed with this one, but hopefully it's nothing superglue can't fix! The rest of the pictures are all of the double-ended eyeshadow brush, which is pretty standard and practical having two parts, so that you can alternate between the two to avoid mixing your colours.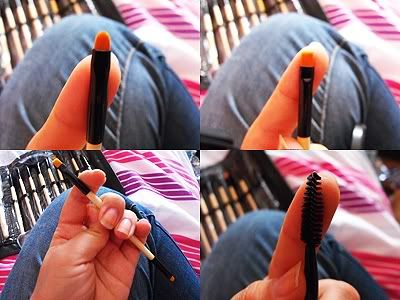 (l-r: top row double-ended flat liner pt 1 brush,
double-ended flat liner pt 2
brush
bottom row
double-ended flat liner
brush, eyebrow comb brush)


Again, these are pretty standards. I'm looking forward to trying out the flat liner as I've only got a slanted liner brush and maybe this might help making my gel liner easier to apply. The eyebrow comb is quite good, miles better than the old mascara brush that I've been using to comb my lashes.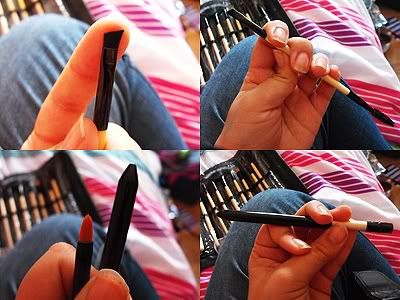 (l-r: top row slanted eyebrow powder brush, double-ended eyebrow brush
bottom row flip brush, lip brush)



The eyebrow powder brush is sort of hard to use, it's actually quite scratchy compared to the others but it does apply the powder quite smoothly, which is what I want, so I'll just have to get used to the scratchiness. The lip brush is pretty good too, applies the product smoothly, although I have no idea how I'm supposed to use the black bit :P

So all in all, the brushes are quite good quality and I'm happy with them (and the fact that I don't need to splash out on MAC now!) so now it's time for the palette!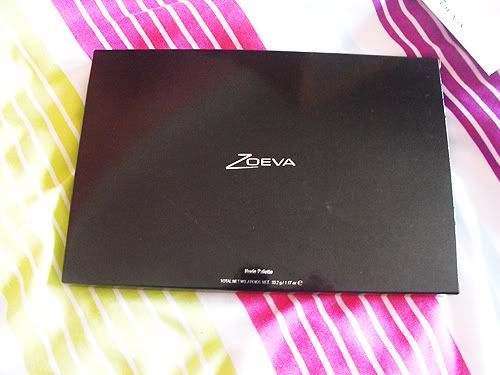 Nice and sleek, isn't it? Again, it looks quite professional and simple, so the first impression is good.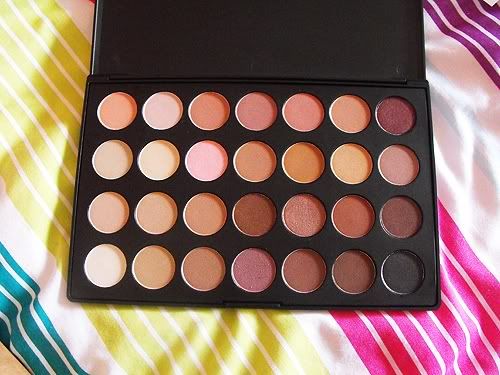 Aaaah, heaven! 28 Nude mostly matte with a few shimmers chucked in there colours, all in pretty big pans! The perfect thing for someone like me who's just starting out with matte nudes (yes, most of my eyeshadows are actually shimmery :O)
Now for a closer look and swatches, starting with the bottom horizontal row.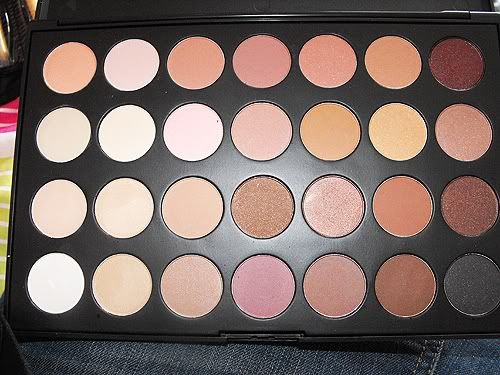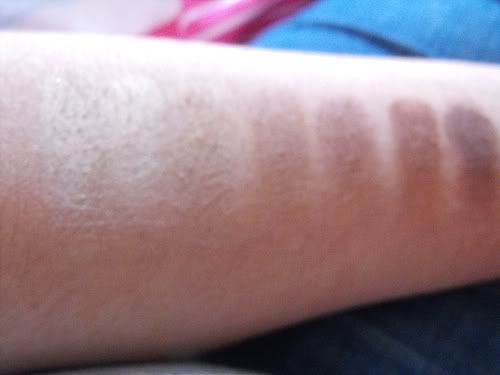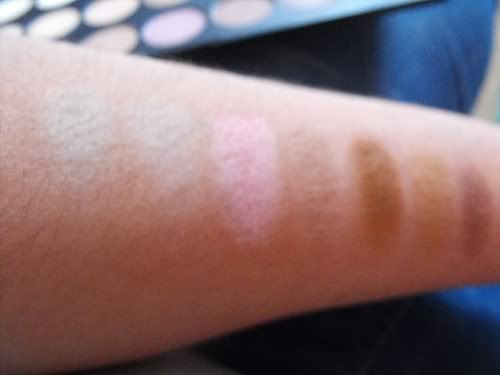 So you have everything in this palette. Highlights, dark colours, some gorgeous shimmers chucked in there, although due to my stupid camera, you can't really tell. If these swatces aren't good enough, just tell me and I'll gladly take some more! The eyeshadows are all quite pigmented, although I think you will definitely need a base with these to ensure the high pigmentation.
All in all, I'm very happy with the palette and the brushes, so maybe in the future, when I've got some more money, I'll pay another visit to Zoeva. Hope you all enjoyed this! And big kisses and thank yous to my new (and old, of course) followers, you guys make me so happy! And I'm thinking of doing a giveaway when I hit 25 followers, so stay tuned!
xx