A small FYI, I shall be doing swatches on this in three parts, each time of the different palette. Otherwise, I'll be having a far too photoheavy post and I don't like that. Possibly my OCD tendencies showing up, but I just start eyetwitching at the thought.
Bon, moving on. I got this from my lovely grandparents for Christmas and received it a few days ago as they were on holiday over Christmas. Its RRP was £45, but my nan bought it the week it was on offer and I think it was reduced after Christmas, but I believe Boots aren't selling it anymore. I took the liberty of looking on ebay and there are quite a few people selling it, not sure if they're fakes or not, but if you want to buy this, that would be your best bet.
Upon opening the case, you have the three palettes 'Latin', 'Salsa' and 'Ballroom', all named after the three dances they do in Strictly Come Dancing. Well, at least, I assume they do in Strictly, as I haven't ever really watched the show myself. The case comes with a face brush, eye brush and lip brush that you can find underneath the three layers and it's a good way to use up the empty space.
These brushes are actually quite good. The lip brush sheds a bit, but still does the job and they eyeshadow brush actually gets a lot of product on your eye which is great for a brush that comes with a product as usually they're rubbish.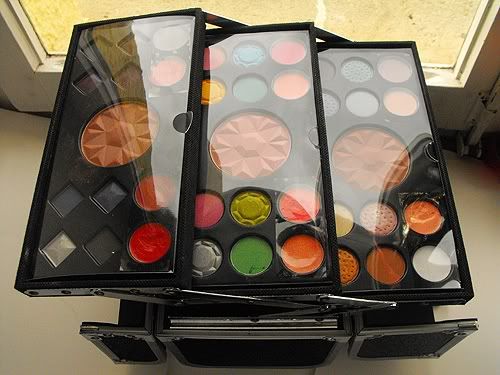 So then you pull out the three layers so that they're sort of next to eachother yet in a layered way. So this post will be concentrating on the upmost layer, which is the 'Latin' palette, I believe.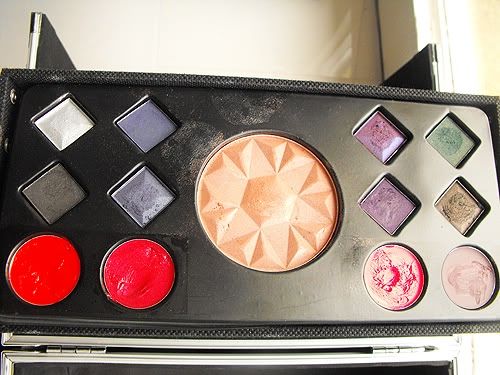 This palette consists out of darker shades which are meant for smokey eyes, and bright to dark red lip shades, so altogether a dramatic look, but then, these ARE for the dancefloor, so they have to be dramatic.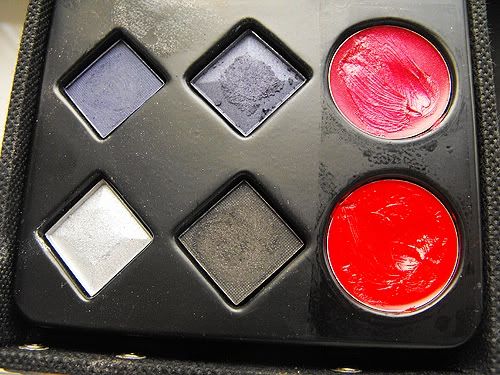 So the odd thing with this palette is that the eyeshadow pans are diamondshaped compared to the other two which are circles. First of all, you have silver and dark grey, so your classic smokey and then blue hinting towards purple. The first lip colour is your classic red and orange based, it's bright and hasn't got any shimmer in it. The second red is a bit bluer and has got some shimmer. These are also glossy in a way, which sounds stupid but compared to the very last one, the swatch will show what I mean.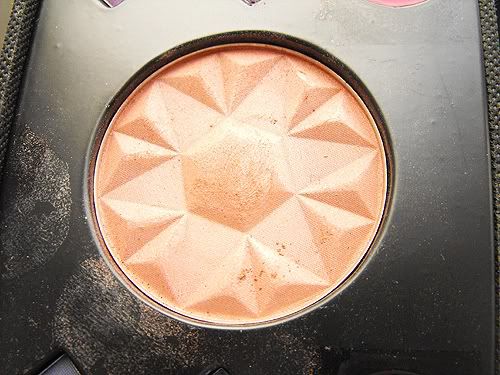 And then you have a blush, which could double as a bronzer as well. It's got some shimmer in it, but it's not too visible, so it's still a bit subtle.
Here we have purples, a green and a brown. So basically with this palette, you can create some dark, bit more dramatic looks paired with bright lips. Again, a nonshimmery (don't want to say matte, cause it's not, really.) cherry red and then a darker red, which is the darkest lip colour in all three palettes.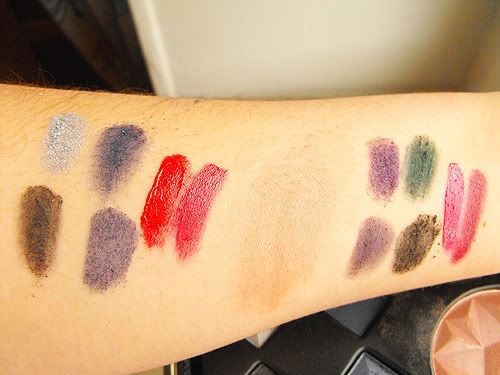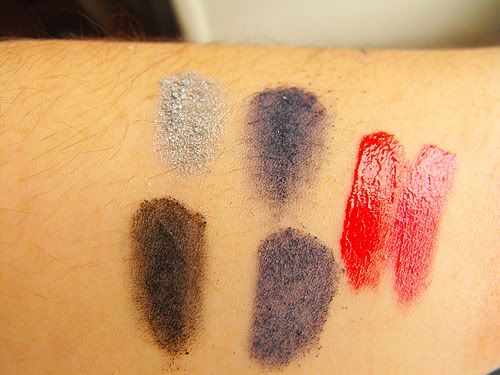 And now swatches...for the first time in quite some time, I didn't bother with the primer.Yes, I'll still use it creating looks but I felt it wasn't needed for swatching as these were pigmented enough (and it's a double pain, swatching, then swatching with primer).
The eyeshadows are quite crumbly, so I think you might experience fallout with these. They're all quite soft and velvety and the lipglosses are great as well. The first three are quite glossy and sticky looking, although they aren't and the staying power's not bad on these.
As with my Sephora Colourplay palette, I think I'll post looks to go with these, so stay tuned!