Yes..finally! A couple of weeks ago, I discovered my sleek ink pot gel liner had dried out. Then I stupidly added baby oil to it, which didn't help so I decided, as I was going to Trier anyway, I would buy a Maybelline gel liner. Why not just buy it in Luxembourg? €12.99, no way! Besides, everything is cheaper in DM in germany, so when I went there, I found it for €8.99, so I bought it there.
According to Boots website, you can get it for £7.99 or you can go to Superdrug, and get it for £5.99 as they currently have an offer to get it 2 pounds cheaper.
What I have noticed though on the UK websites is that it only exists in black...whilst in Germany, I had the choice between black, brown and navy. I chose brown as the image shows.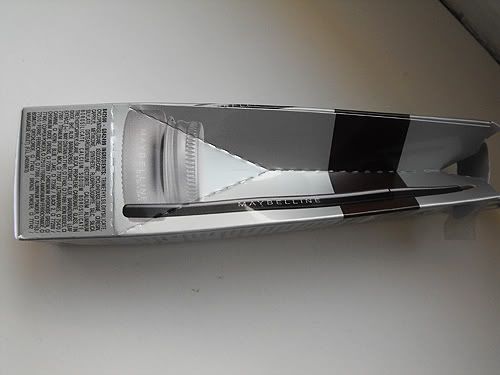 So an image on the side depicts what you have inside which is a brush and the liner itself.
So the eyeliner is in a sturdy pot which looks very neat and professional. It is a tiny bit misleading though as there isn't as much product in it as it would have you believe.
This picture shows what I just said, but despite this, there is still a reasonable amount in there. Also the eyeliner has these lovely little sparkles, that were a bit difficult to capture, but hopefully you can see them. They don't show as much when you have it applied on your eyes, so people who feel the sparkles would make them decide not to get it, have no fear!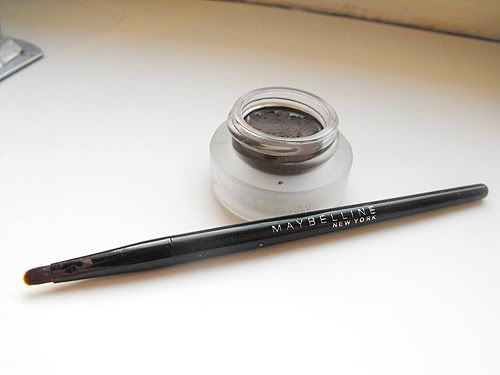 It comes with a 'professional' eyeliner brush, which is actually quite decent. You could use this and get decent pay off, but of course, if you prefer a sharper line, you'd be better off using an angled liner brush.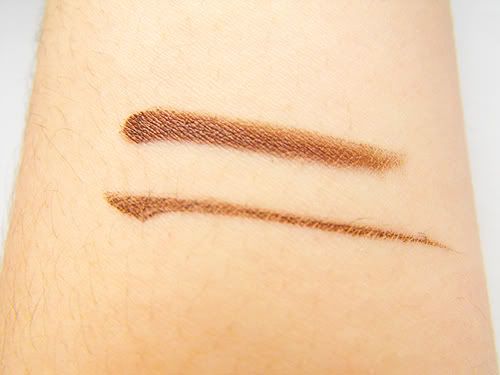 I swatched this with the brush accompagnying it and my own angled liner brush (bottom) and whilst both give the same colour payoff, the angled brush gives a much more precise line. This stays on relatively long, although I think after about 8 hours, you might want to touch it up but still I love it.
As for the consistency, I feel it's a bit more of a cream liner than a gel liner, anyone else agree?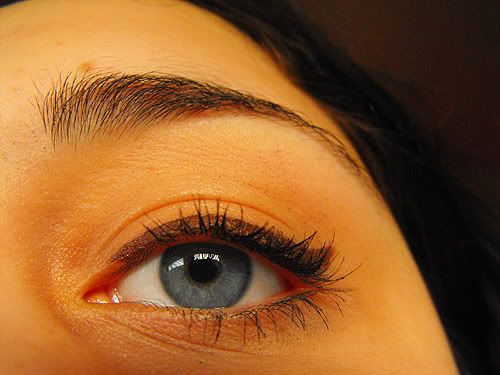 And here's my new practically every day EOTD look with this. One thing you do have to watch out for is that if you have oily lids, it can transfer to your crease a bit, but not as much as a pencil liner would.
So here the sparkles are a bit visible, but generally they're not. All in all this is one of my new favourite products and it's definitely one of Maybelline's better products!