Turns out, I did have enough time to take pictures of my outfit and makeup with my camera, so here goes!
For some reason my camera always makes the blue eyeshadows look a lot greyer than they are which is a bit annoying. Moving on, I did some typical 80s makeup here although a bit rushed, I'll take care to be more precise on Friday! I also didn't blend my eyeshadow out properly so it doesn't look quite right here. I think what's also missing is some highlighter on my cheekbones, but I'm not entirely sure I've got one, so I'll probably try UD's Sellout to see if that works.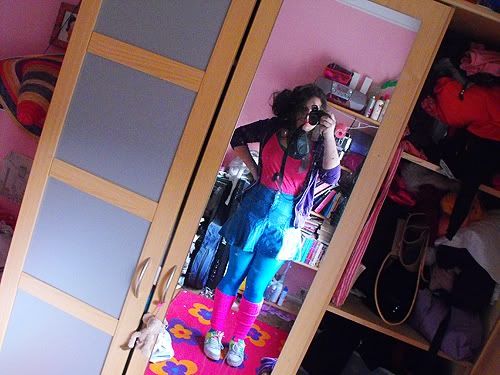 Excuse the untidy wardrobe, I had to dig out some clothes for the outfit! So this is my outfit for Friday, it's...quite bright so I will most likely attract some stares, especially as msot Luxembourgers are shocked by a bit of colour!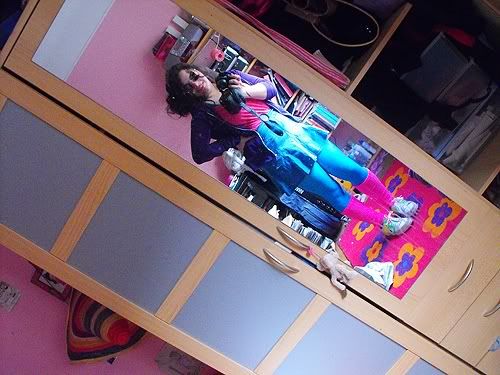 Here you can see the funny fake Ray Ban's that I'm gonna wear (although not for lessons, won't be able to see much then!) and yeah, it'll be a lot of fun so bring on Friday!
Speaking of Ray Bans, I have new glasses! My old ones were breaking so I got some new frames and I love these, they're much wider so people can actually see my eye colour and not go after trhee years of knowing me:' You have blue eyes?!'
Hope you all liked this and there are more posts to come on Friday/ Saturday!