Just a small post today, folks, even though I have really neglected my blog ( I apologize, I know I suck.)
So about early january, I stumbled upon the Champagne Kisses bigcartel site and fell in love. Namely, the
love takes time

pocket watch
. So I ordered it (and another necklace, but I shall leave that for another post!) and today it arrived, although there was a minor complication with me not knowing how to change the time (doh, you thicko) until my best friend came round and promptly showed me how to do it. She likes showing me up a lot and was very smug at this.
Isn't she a beaut? (Yes, it is a 'she'. Because I like girl power!) Anyway, the colouring in this picture may look a little off, but that's cause I had my white balance on the wrong setting and it ended up too yellow so I tried to rectify it with selective colouring, although it still looks odd to me.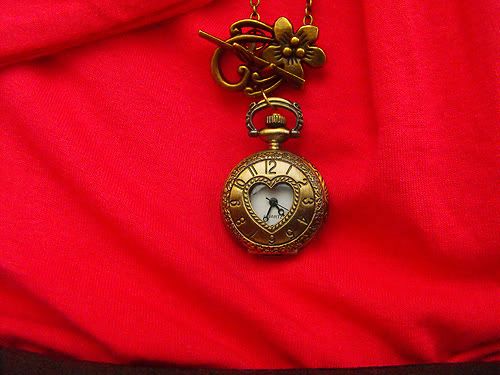 A bit more true to colour, I didn't take a full outfit picture because I couldn't get any decent ones, but I'm wearing a high waisted skirt so this comes to a little above my waist.
And then after Alohamora, it opens! (Ok just kidding, I'm no witch. Dani is though, she has a wand!)
So there you have my latest piece of jewellery that is also practical (no more asking what time it is/peeking at mobile in school now!)
And for the more beauty related aspect of this post (after all, what is this blog again?), here's my FOTD for today. I felt like jazzing my usual look up, so I added Urban Decay's Ransom on my lower lash line cause purple just makes me happy :)
It's quite faint in this pic as I took the picture late afternoon and I applied my makeup at 6 am (I hate early mornings so much, you have no idea..)
I hope this measly attempt of a post makes up for my absence and I will do my best to update this weekend!