If you are experiencing déja-vu, don't worry. I HAVE already posted about this, but then I remembered the photo I took with it and thought :
this.will.not.do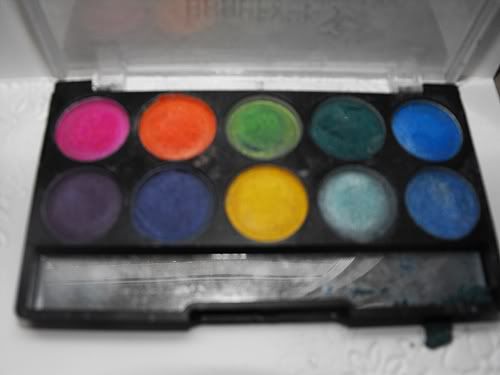 You see that BLURRY MESS? I should be ashamed, being a blogger. So I decided to rectify the situation and delete the old post and publish a new one. I'm not even copy pasting the content, it was very minimalistic!
[Is that not much better?!]
So, beautyuk are a british high street brand that I think is only supplied by Superdrug. Correct me if I'm wrong on this, not having the opportunity to live in the UK, I can't always know these things!
This is one of their six eyeshadow palettes, of which I have my eye on the Earth Child (no4) and Day And Night(no6) ones. These cost 3.99 each which is a very bargainicious (I'm sure that doesn't exist, but it expresses what I'm trying to say!) price for what you're getting. This palette is the Soho Bright(no2) one and I think the name aptly describes the content.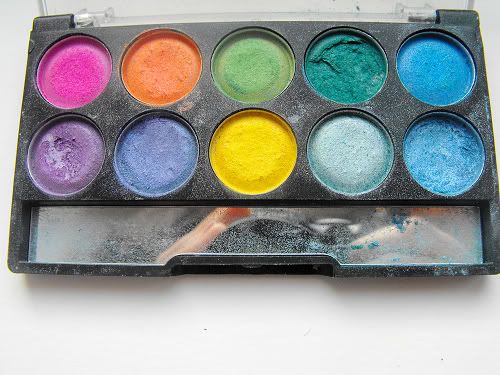 Go and compare this picture to the first one, amazing when you think I'm using the same camera. Oh, the wonders of learning how to actually USE your camera!
As you can see, mine is a bit battered, despite the packaging being quite sturdy. I think this is due to it being a few years old and also my habit of being a clumsy oaf. That the eyeshadows have not completely broken up is amazing, the amount of falling that happens with this would be enough to make ANYTHING break.
I love how you have every colour of the rainbow in this palette and these are my favourites. This photo is actually making me want to create a look with these, it's been long enough since I've created a bright look. As for the sizes of the shadows, they're quite small, but big enough for you to get your brush into, just not one of those overly large ones, I think. Can't really say much from experience for this as I don't actually own any big ones.
As I said, practically every colour of the rainbow here. I actually used these blues for my 80s look yesterday and they blend very well and are very smooth, just a bit of fallout, comme toujours, but that's nothing serious, is it?
As for the staying power, these are quite reasonable over UDPP, I haven't tried without, but I expect they'd stay on for some time.
Here are swatches WITHOUT primer. First of all, the yellow does not look like that. That was cause I didn't clean my finger after swatching the orange and it's a similar scenario to when you're painting and you don't clean your brush before dipping into the yellow...
They are really quite pigmented on their own with a few weaker ones, such as the purples and the light green. But that kind of pigmentation alone from a high street brand is brilliant.
Now swatched over UDPP in Eden...WOWSERS! This really brings out the pigmentation of all the colours and it is amazing! They look fine without primer, but when you do use primer, it just gives it the extra something!
Anyway, I hope this review and the pictures were a lot better than the previous one and I should be posting tomorrow as I won't really be doing anything, so until then!