When I read
Beautys Bad Habit
's post about
the old Body Shop lotion she found
(she is seriously becoming my top blogcrush - I love it!), I felt inspired to go through my mum's basket of old make up that she never uses. WARNING, image heavy!
So after chucking the ancient and STINKING mascaras that
my sister
and I went through (we went through the liberty of sniffing them to see how old they were, OH MY GOD, one smelt like petrol!) and other various crumbling stuff, I discovered a few things and asked my mum whether she would allow me to melt them into a pallette, because a) she never uses them and b) some are falling off but they're just so pretty! So she gave me permission to take a few things up to my room and leave the rest in there (surprisingly, we found stuff which was obviously still from this decade...impressive)
Oh yeah, that palette's got a gorgeous packaging, hasn't it? So let's start with that first.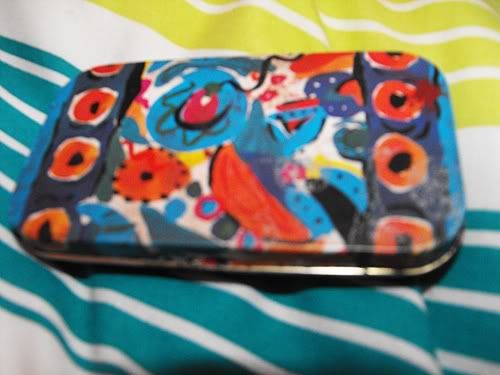 So, upon closer inspection (ie, turning it over to look at the details), I discovered that it is St Michael by M&S or something like that.
As you can see, I have put an exclamation mark and underlined the year it was made, which is 1991!!! This eyeshadow's older than me, for crying out loud!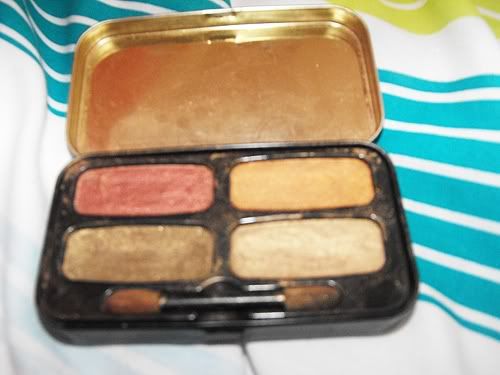 I suppose the colours are quite nice though, even if the palette itself has a...eccentric design, to put it nicely.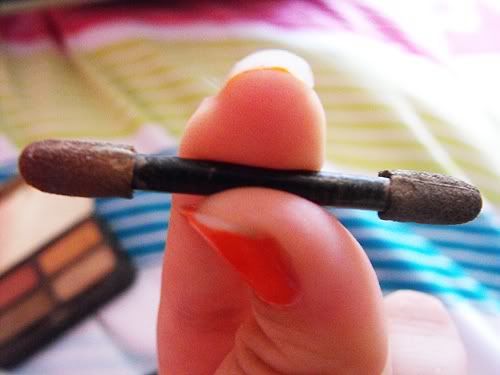 So I picked up the applicator, which was surprisingly still intact, only for this to happen when I used it to swatch the colours (oh yeah, I touched the old eyeshadow. Brave Nat, I am)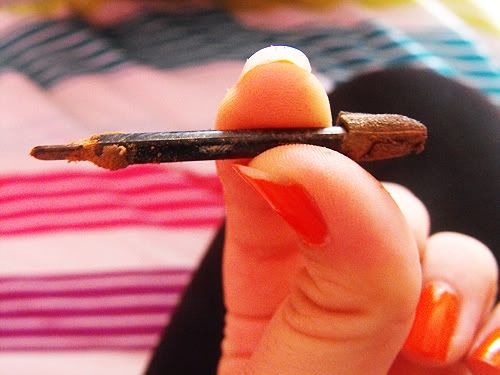 Erm yeah...Intact? Nope, not anymore.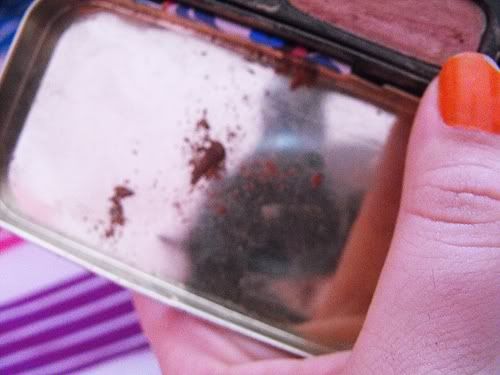 That's where the spongey bit fell off into...it just completely deteriorated before my eyes! Anyway, moving on to swatches.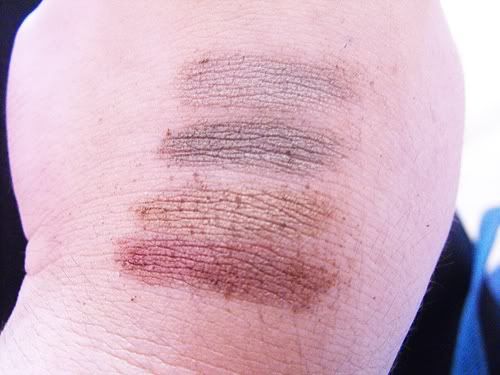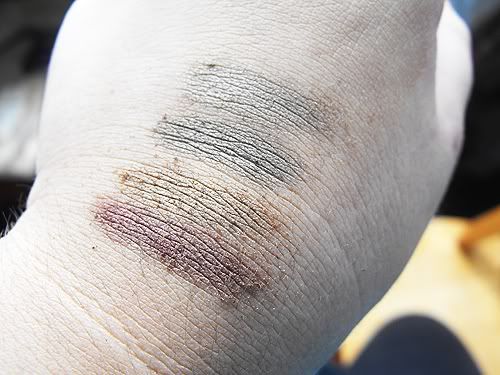 So the colours are actually quite nice and remarkably pigmented for being 19 years old, but I had to throw it away, cause it's just plain unhygienic using something quite old and I don't want any eye infections, no thank you! But it was fun whilst it lasted and certainly interesting to try out.
Next up is an older Clinique lipstick. I am assuming this because the packaging is completely different to any of their current lipsticks and from what I've checked (ie googled), this sees to be discontinued.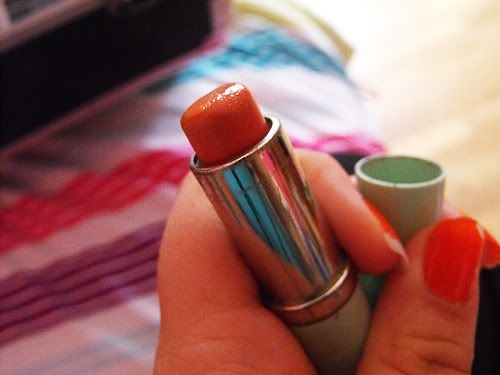 It's a bit more orangey in real life, but my camera has this annoying tendancy to take some pics with nice lighting and some with not so nice lighting.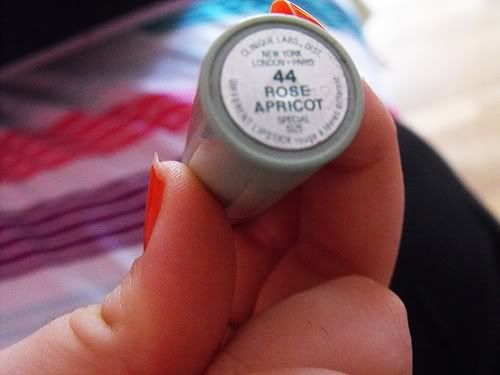 So it looks pretty nice in the pot, but on y hand it's a bit wishy washy .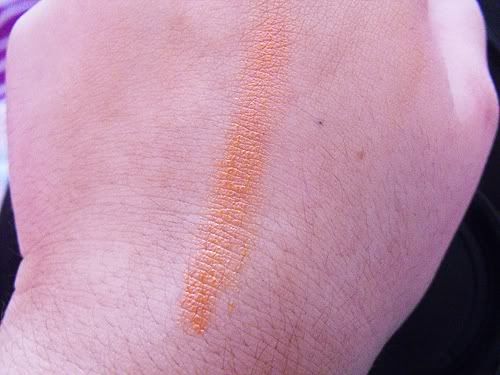 See? Old age has made it streaky, which is why I'm going to experiment with these three lipsticks and melt them (first time doing it!) when I have the time.
And now we have a Maybelline lipstick! Out of all the oldies, I think this might be the most recent purchase. Which does make me wonder...what on earth is my mother doing buying THAT shade?!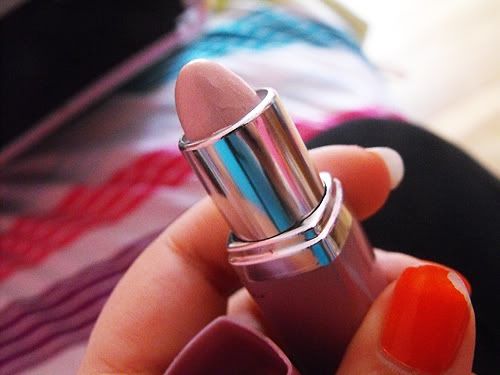 I know a lot of people like pale lipstick, but I just associate it with those orange fake-tan, backcombed hair disasters...whose role model seems to be Jordan.
Anyway, as far as I know, I think this one might still exist *shock*. The shade is 01 Vanilla Ice and is part of their Watershine collection of lipsticks.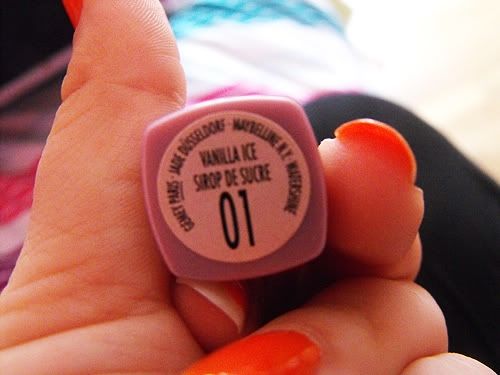 I love the french name...
sirop de sucre
. Dunno how vanilla ice translates to sugar sirop exactly..
Erm, yeah, so I tried this on my lips and it didn't show incredibly well. Mainly because my lips are quite red so I'd have probably been better off using a lip base, but I don't have one so there haha.
Next up is possibly my favourite. It's part of the Allex Jane Aloe Vera Rose Garden lipstick collection and is called Night Rose. I adore the packaging on this, it's very floral which makes me squee even though anyone else would accuse it of looking like their grandmother's curtains, but I like it. The internet does not give me any indication of how old it is, so I'm gonna assume it was bought in the 90s because it's quite hard now.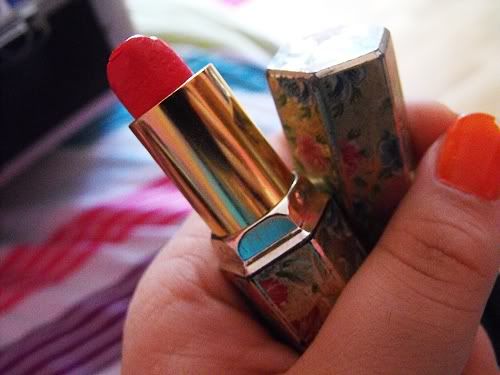 See how pretty? I love it and the colour itself is gorgeous.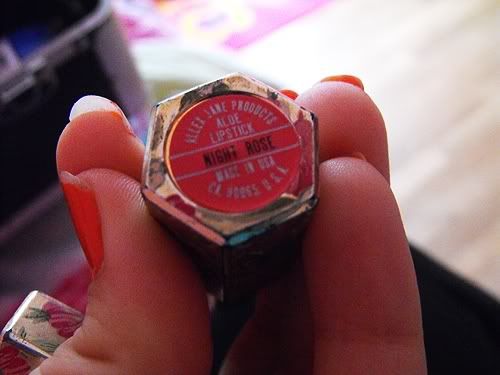 So as for swatching, it's still quite pigmented, so I'm gonna melt this as well, although I'd rather not, as the packaging is lovely, but it's fallen out already so I have to, I guess.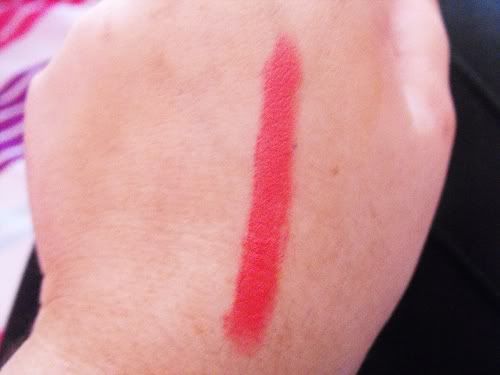 Next up is the Napoleon Perdis Liquid Lipstick, which actually has
reviews
on Make Up Alley!
Although, I would honestly rather call it a very pigmented lip gloss, cause that is what it is.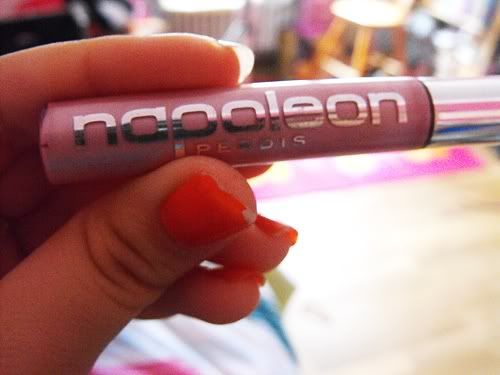 Again, I have no idea how old it is, I haven't actually heard of this brand before, but according to
Wikipedia
, it's an Australian brand which was started in 1995.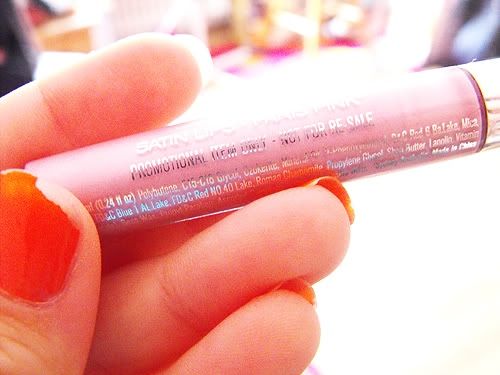 So this 'liquid lipstick' is in shade Paris Pink, that's about as much as I could find out from the back.
It's quite pigmented, yet quite pale on the lips, so I'm not sure whethe I would actually use something like this.
Anyway, phew, that took a while! I actually really enjoyed going through the old stuff today and I was gonna post about my little haul from Saabrücken in Germany, but I've spent ages doing this and photobucket is being a pain in the arse, so hopefully, tomorrow I'll continue!