Until recently, I never really cared much about my eyebrows. Ok, yeah, I pluck 'em, but filling them in? Neatening them? Never. Until I read
this
post by the marvelous
Beauty's Bad Habit
(love that blog, it's amazing!) and realised :'Oh, my eyebrows are crazy and untamed. I better get them sorted out'.
See that's where my problem is. I can't just buy an eyeliner pencil. Black? I'll look like a transvestite. So in reality, I have no clue what to buy.
Anyway, here's a picture of my untamed and completely make up free eyebrow.
Urgh, nasty, isn't it?
So last week, I went into Sephora with €30 and was immediately asked by a MUA standing near the Benefit and Urban Decay stuff whether I needed help, which I did. I said I did and that I wanted some eyebrow powder which would make my eyebrows look natural and not wayy too dramatic. So she immediately showed me the Benefit Brow-zings and then ent and looked for an angled brush so she could show me how to apply it (turns out someone had stolen one from the tester's box). Then she showed me how to use it and she made my eyebrows look quite good so I decided to buy it.
€29. Pricey stuff, but I suppose in the long run, it's worth it. And the Make Up Alley reviews of it seem impressive, so I'm happy.
Now this is how I've decided to do my brows, after some experimenting over the last week.
As the picture's slightly blurred, I've decided I'll just post a pic of my look today, where you can see my eyebrow more clearly.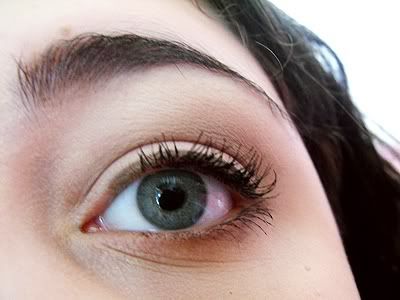 Today I used Too Faced's Natural Eye Palette doing the Day look, which I really really loove :D
And now for yesterday's look, which is actually a recreation of this lovely look I saw in a very old Sugar magazine I used to have lying around, which I still remembered (at least the basics I remembered)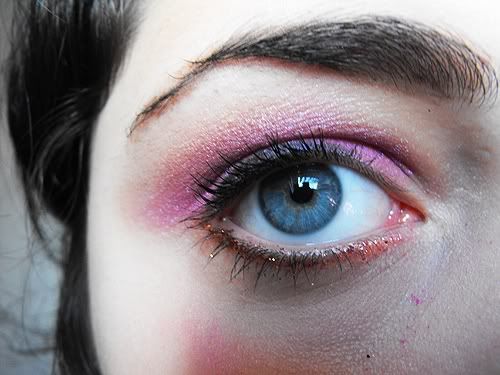 Yeah, you can see a bit of the fallout on my cheek there, whoopsy. I used Barry M Peony, Sleek Ink Pot and Collection 2000 Glam Crystals Dazzling Gel Liner in Retro Chic.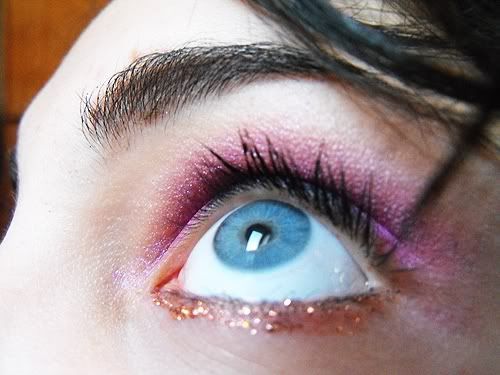 So that's all from me today, it's getting late and I'm getting tired :) Night night