yay, a new FOTD! And this time, it's a tiny bit different!
You can't see it, but I used Too Faced's Natural Eye palette (which I have yet to review), using these two gorgeous shimmery gold and brown colours :) And then I used my fruity shine labello on my lips, which has a bit of colour but sheer enough for me to wear at my school without it being an actual scandal. As you can see, I went over the lines of my lips a teeny bit, but my lips are a bit dry and that's also the purpose of a lip balm isn't it?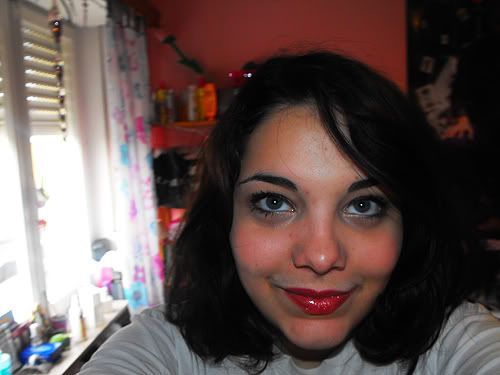 Here's another pic, but with me trying this L'Oreal lipstick I found in my mum's drawer. I'm planning a review later on because that colour is simply STUNNING and what you can' see is that it has tiny gold sparkles, which look lovely :)
Also I've changed the way I flick my eyeliner and I have a close up here so you can all see what it's like :)
What do you all think? I followed the line of my bottom lash line and just extended it so that it looks even. Good?
I'm off to bed now, night night x