Merry Christmas everyone! Turns out I have a little time today so I'm going to continue my makeup magpie series with this gorgeous little duo palette that I borrowed off my mum!
Now I have never heard of Charles of the Ritz, but according to my mum, they're better known for perfumes, but correct me if I'm wrong on this, I'm always open to learning more things! So I've just gone on wikipedia (my best mate haha) and according to
this page
first Charles of the Ritz belonged to Yves Saint Laurent, then to Lanvin and eventually was sold to Revlon and finally shut down in 2002.
Now from the outside this looks really boring and standard without a name on it, until you turn it around to look at the details.



First of all, I love the name of the actual eyeshadows, it sounds a lot interesting than 'shade 07 pink/white' and then once you open it...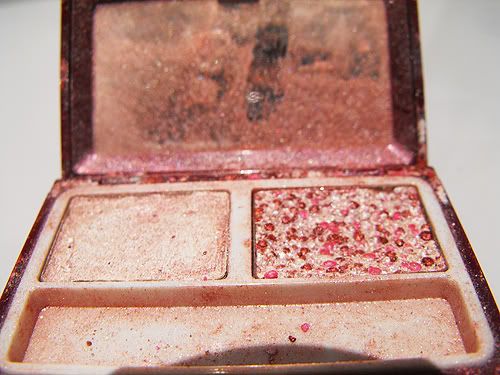 Ok a little dusty but look at that stunning colour on the right! I fell in love with it at first sight, thinking 'this is my kinda pink!' and the white is nice as well and it has a bit of a pink highlight to it, so it's not completely white. I'm going to guess that the white is moonbeams and the pink granit rose, although google shows no results for this, so no confirmation on that part. I LOVE the texture of the granit rose one and how it's all kinds of colours, it's so unique compared to the other products I have.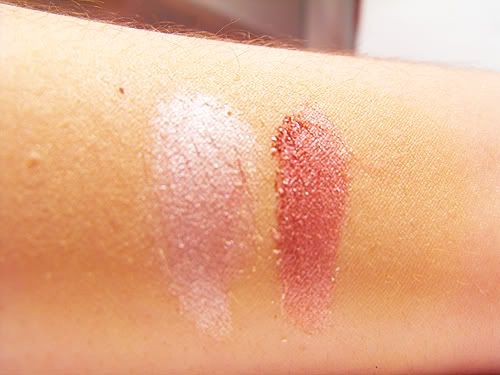 Unfortunately, without primer, these aren't fantastic so I swatched with UDPP underneath so I could show you all how stunning these look as without priming doesn't do them justice. I especially adore the pink and have used it quite a few times and it's just a lovely colour.
I hope you all enjoyed that and in case you're interested, I now have twitter so come follow me (if you want ) at www.twitter.com/ohlalanats !
Hope you all enjoy your christmas and have a lovely day!