Hello there, long time no see, no?
Not for lack of trying, I can tell you that. Yet again, my internet is stupid and will work either sparingly or if I refresh the internet every time I open a new page. Yeah...not gonna help with photo uploading. But eventually, I managed it so here's a small blog spot for all of you.
In light of the fact that in the new year, I have to go swimming with school, I've had to accept that I do not have the time to do makeup that is a little bit more complicated than smudging black eyeliner and mascara (the typical look here) so that puts my whole eyeshadow and liquid liner out of the running. So today I decided to try a 'no makeup' look as a) I'm going to need the minimal amount of black, ie mascara and eyeliner, so I don't have to worry about looking like a panda during swimming and so that I can do my makeup quickly. Some people would suggest not wearing makeup before swimming but like any other teenage girl, as swimming is the last two lessons, I'm not gonna go spend practically the whole day makeupless.
Instead of just going for mascara and finished with that, I still wanted to have eyeshadow in my look as I just don't like leaving my eyelids naked.
Ok, now all that rambling's done, I'll show you what I came up with whilst I was messing around.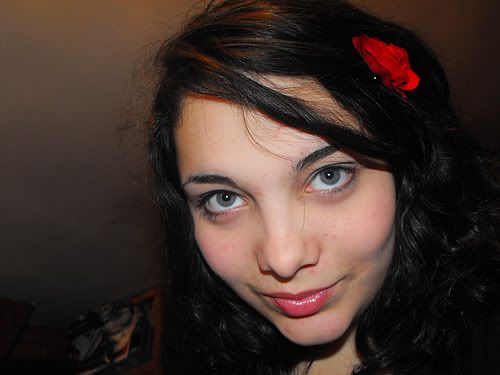 As you can see, my usual eyeliner is missing and my dark circles are visible due to hastily applied under eye concealer. I ended up using mainly Sephora products, which is a first for me. Usually I tend to go for my british cheap makeup. I sort of mixed a dark brown matte eyeshadow with a lighter one because I noticed that my Too Faced Natural Eye palette's matte colours were more on the cool side and didn't look entirely natural on me. Of course, after doing the look, I stumbled upon my Zoeva nude eye palette, so I had a bit of a 'you idiot, how could you forget about this?' moment.

At this point, it is now the next day as yesterday my internet stopped working but thankfully, everything I'd done until now was auto saved. Right anyway..so as you can it looks a little bit weird and not fantastically blended at the mo, methinks I still need to work on it. I've decided I want a white base, like nyx's jumbo pencil in milk, but I don't really want to pay the shipping prices so I'm looking for a nice alternative that you could either get in the UK or Sephora, any ideas?
That's all from me for this post, I will attempt to update again, but as usual, that depends on my stupid internet.