Just a little note, I'm posting this in two parts, as it'll be a little too image heavy otherwise and I don't like image heaviness!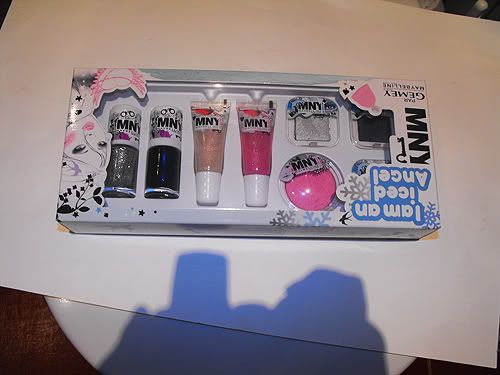 Please excuse the massive fail that is me putting the package on the wrong way up...
Right, so for Kleeschen (AKA St.Nicholas in Belgium and Holland..basically their christmas), I got this makeup collection from MNY from my parents (ok, I was the one one who picked it out). It retails for €19.99 and funnily enough, I don't think the colours are the same as in the promo pic.
So the nail varnishes are completely different and I think the blue eyeshadow might be the same, but as for the rest, they don't look like the stuff in the collection!
Anyway, as you can tell by the oh so creative name of the collection, it's blatantly a winter collection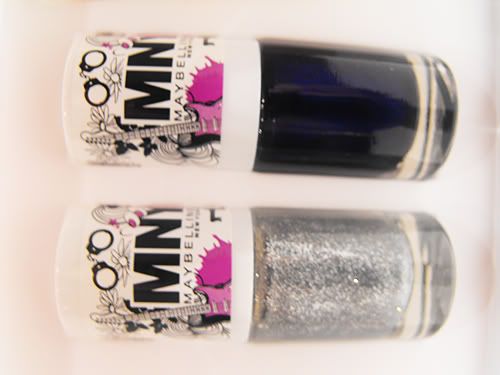 Here are the two nail varnishes in shades 653 (the silver glitter) and 655 (beautiful metallic dark blue).
So this nail varnish is just sparkly silver glitter and quite sheer, so it's basically a top coat to spruce up other varnishes.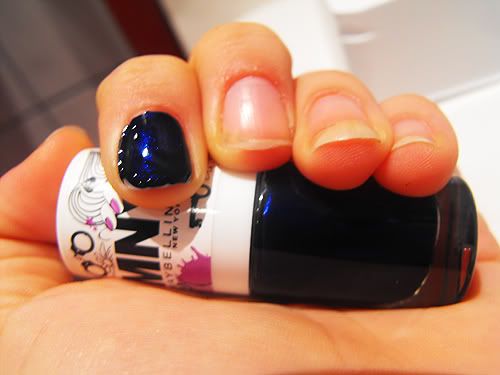 Oh boy, do I love this nail varnish! The colour is just GORGEOUS and it was just love at first sight. I'm glad that the varnish isn't too dark as I'm not too keen on black and this is light even to be obviously blue.
Bottom is shade 175 and above it is shade 295. usually, I steer clear of the juicy tube lipglosses, because they remind me way too much of the cheap makeup you'd get as a kid that was unbelievably sticky and just awful. So, quite unfairly of me, I thought the worst of these and expected them to be awful, but they are actually really smooth and not sticky at all! I didn't really notice any scent but they're quite pretty, subtle with a little bit of glitter, in fact I think I'm slowly getting over my anti-glitter-lips thing.
So they're quite pigmented, but not too much so, and the clear one has more glitter particles than the pink one, which is the one I prefer because it'll give me a nice subtle colour.
Right, part II is coming right up and should be posted later on this evening :)