Finally!
I managed to get all my pictures on photobucket after all, as Picasa turned out to be fully incompetent and turns out it wasn't Photobucket itself that wasn't working, but the ads weren't and cause they've changed the layout, I thought the ads were the uploader and there we have it.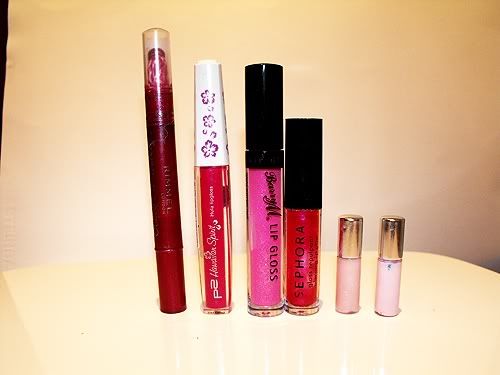 So this is my entire lipgloss collection, barring the squeezy tubes. Rather pitiful, isn't it? Although now that I'm looking at it, I just realised I forgot my Boots No7 lipgloss, which was probably only forgotten as I have my makeup box colour coordinated and all the pinks and reds are together and this one happens to be neutral, so it got forgotten, whoops!
So from l-r we have Rimmel Twist and Shine Lip Polish in 070 Twist Up, p2 Hawaiian Spirit Lip Gloss in 020 Exotic Blossom (LE), Barry M Lip Gloss Wand in Bubblegum Pink, Sephora Gloss Repulpant and two unknown glosses.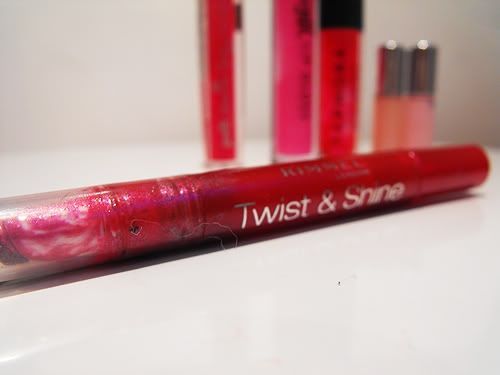 So starting with the Rimmel Twist and Shine lip polish, I bought this a couple of years ago in Poundland for...well, guess the price. I think it's probably the darkest lip colour I have and when I bought this, I wore it quite often and here's an (old) pic where you can see me wearing it. As it's a lip polish and not really a gloss, it's
very
pigmented, although still quite sticky.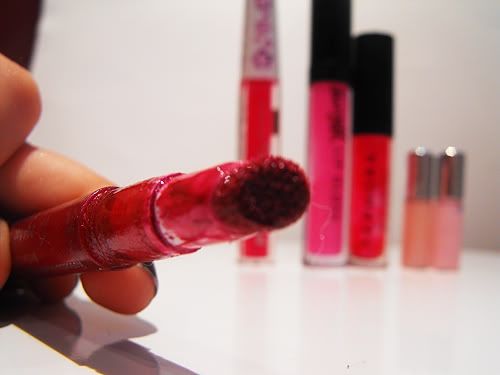 So the applicator on thsi is kind of funny. You twist it (...duh, nat) and then the gloss comes out of little holes in the applicator so you have to be careful that you don't twist too much.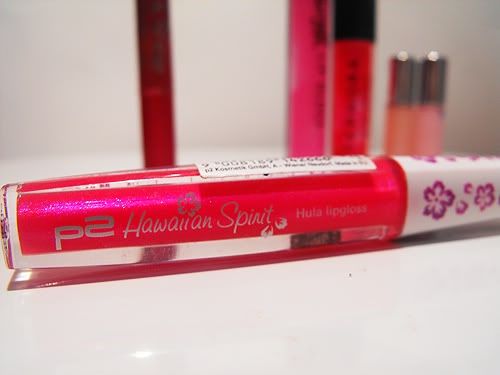 Next up is the p2 Hawaiian Spirit Hula lipgloss in Exotic Blossom. Now I don't believe p2 is well known in the UK, as it's a German brand, and available in German drugstores (as well as luxembourgish ones!). It's qutie a cheap brand, which is good but I find that not all the products are great, which is to be expected. I even believe that p2 have an equivalent to Barry M's Nail Effects, except also in white, so I may have to investigate that.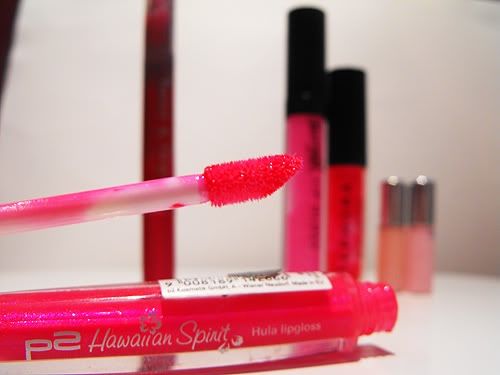 Now, this is quite pigmented and the scent is quite vanilla-esque, which makes it smell lovely. Unfortunately it was limited edition when I bought it last year, which is a shame. It's not got much, if any sparkles in it which ticks my boxes!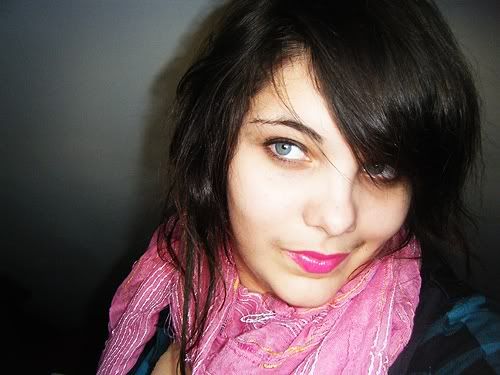 Here's a picture from October last year with me wearing it and as you can say, although it looks quite warm in the tube, the actualy colour is more of a pink with blue undertones.
Next up is the Barry M Lip gloss wand in Bubblegum Pink.
Now, I believe this, most of the UK readers will have heard of, although the shade 'Toffee' is more popular, from the various reviews I've read. You can see by looking at the tube that this has sparkles, but with this one I don't really mind (it's really more the Claire's lipglosses that annoy me!)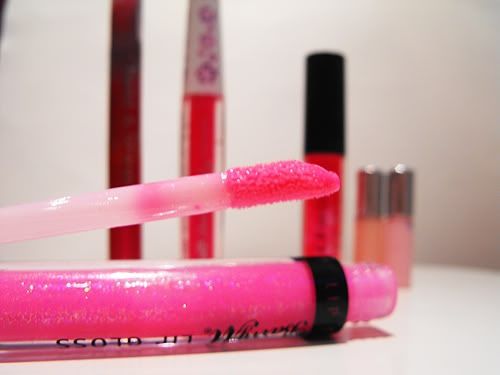 So this is pigmented, but not as pigmented as you would be lead to believe, looking at it in the tube. It's quite sheer, but not too sheer, even though that sounds confusing to imagine. You'll all see in the swatches :) The scent is...three guesses...bubblegum, which I don't mind but I've read that quite a few people aren't keen on that.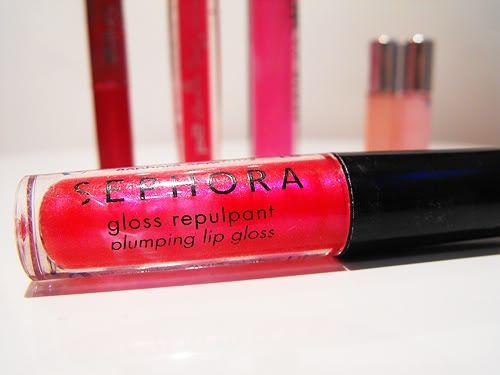 So...Sephora's plumping lip gloss. I bought this is 2008 at the braderie sale in town (last time I saw Sephora have a sale like that:( ) but I didn't realise it was a plumping lip gloss until I tried it on at home, resulting to a scene that had me shouting something along the lines of: "ARGH! My lips They're stinging, what's happening????!!!" and my best friend laughing her head off after investigating the gloss and concluding that it was a plumping gloss.
Now I don't think this has any particular scent different from the standard lip gloss scent and it's quite sheer, this. Your lips will tingle a lot when you first apply it but it wears off a bit afterwards, but the colour itself is incredibly sheer which is a little bit of a shame, as it looks so lovely in the tube.
So the final two are samples of an unknown brand that I found lying round the house and decided to put in my makeup box( cause no one else seemed to want them haha happens with a lot of the makeup in my house!)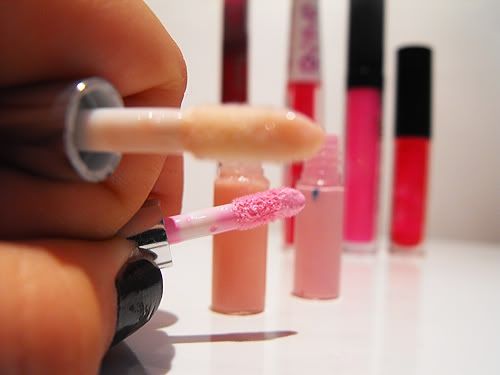 Oh yeah, that pale pink is pigmented, although not very consistent. The other one is rather see through, which you wouldnt' expect, judging on the pinker one and the tube itself.
And now, finally on to the swatches!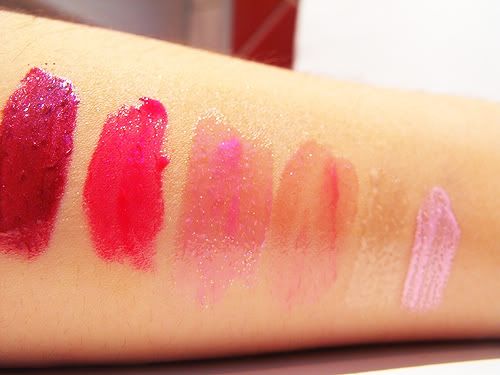 So, they're in the order that I listed them, but I'll do it again just in case you girls can't be bothered to read the whole post again ( I know I sometimes don't feel like it).
From l-r: Rimmel Twist and Shine Lip Polish in 070 Twist Up, p2 Hawaiian Spirit Lip Gloss in 020 Exotic Blossom (LE), Barry M Lip Gloss Wand in Bubblegum Pink, Sephora Gloss Repulpant and two unknown glosses.
It's also funny because they look like they go from the most pigmented to the least pigmented, barring the last one, which was entirely coincidental!
Hope you all liked this and don't forget to enter my giveaway, if you haven't already, as it ends tomorrow night xxxx