Hi everyone,
this is just an apology for the rather mediocre post over the weekend. I know I would usually post something at the weekend, but as it happens, I've been sick since Wednesday and to be blunt, I look like death warmed over. Blotchy nose, puffy eyes, I don't think my foundation's up to par with making me look healthy at the moment! And then to make matters worse, because of the strain of coughing so much, the skin around my eyes has somehow developed a slight rash which from afar would look like freckles, which I suppose is better than being completely obvious, so that's why EOTDs and FOTDs have been out.
I did have a few reviews lined up such as my lipgloss collection (it's not big, trust me) but again, my internet is acting up and won't work from my computer with all my pics on and stuff so I'm using an old laptop at the moment. To compensate for that matter, I'll upload a pic that I did manage to get on to photobucket, so I guess it's a little preview.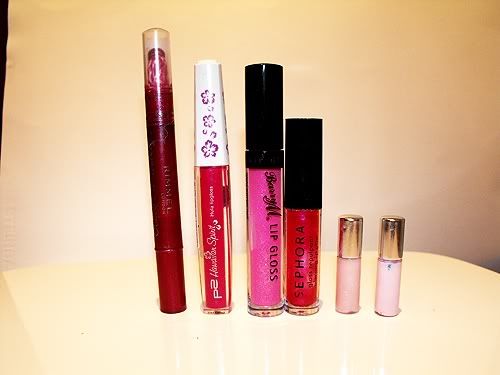 I don't know when I'll next be able to update before the weekend as this week is just a nightmare as far as tests go. English, German (this will not go over well, I can tell you that already), Maths and Physics. The last two are on the same day so wish me luck! I'm a little nervous with physics because it's our first year doing it and our first test and I dunno if I understand it enough to pass the test (add to that that we do most of our subjects in French -> ten times harder) so yeah, fingers crossed it will go well!
Normally I would say I don't have much to worry about concerning the English test but stupid me left the book we had to read for the test at school so whether I can remember all the small details from when I finished it a couple of weeks ago we'll find out tomorrow, unless I can borrow my friend's book on the bus tomorrow and read the chapters we have to read in time.
So this has gone a bit off topic but I just felt I owed you all an explanation as to why I haven't posted much xxxx