YAY MY FIRST DARE TO WEAR :D
First of all, Dare to Wear Challenges are the monthly, I believe, challenges that Alicia over at
FunnyFace Beauty
, where she challenges her readers to come up with looks based on certain images she gives. The Dare to Wear challenge #3 that she published today is ten times more important than that as this time, it's for charity. i'll just quote Alicia's post so you understand how the charity part works.
From October 19th (world AIDS day) to December 1st, the Stephen Lewis foundation has a campaign to raise money called 'A Dare to Remember'. People are encouraged to come up with a dare (for themselves, for others, etc) that will help raise money.



I have decided to use my 'Dare to Wear' challenge to dare all of you to help raise money for this important charity. For every person who takes my dare to wear challenge, I will donate $1 to the Stephen Lewis Foundation. BUT WAIT, it gets better than that, for the first 10 people who take my challenge, my parents will match my $1, for the next ten people (20 people total), my parents will donate $2, for the next ten people (30 people total) my parents will donate an extra $3, and so on.




Isn't that just amazing? I only quoted the parts concerning how the charity ties in with her challenge, so if you want to read the whole post and also participate (which I really hope you all do!) click
HERE
.
So now, to the more personal bit, I attempted to recreate this look, which is just amazing and beautiful and I don't want this to become full of corn to describe how stunning I find the makeup and the model on this picture.
Of course, in typical Naty fashion, there has to be ONE screw up. I ended up messing up the sides, basically so that the makeup that's on the left is on the right and vice-versa. Of course I'm going to have to beg for your fogiveness as my look itself is quite messy and also not exactly like the picture as I'm not a professional makeup artist. But it's still an attempt and it's for charity so if I look stupid, who cares!
I also tried my hand at face painting but with my limited resources, I ended up using foundation/ UD PP without blending it, then letting it dry and then putting the colour on top. And then, obviously some improvisation of the colours as I don't have exact matches to all colours on the picture.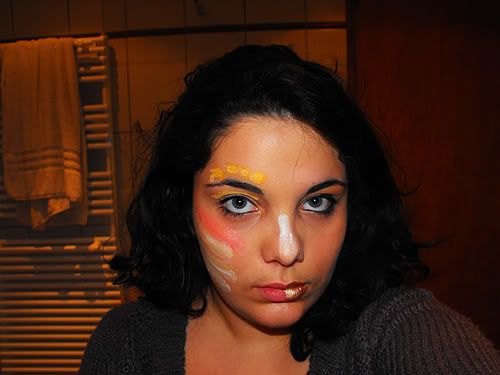 See the messy dots above my eyebrow? Yeah...I've never been a neat artist...just ask all my art teachers!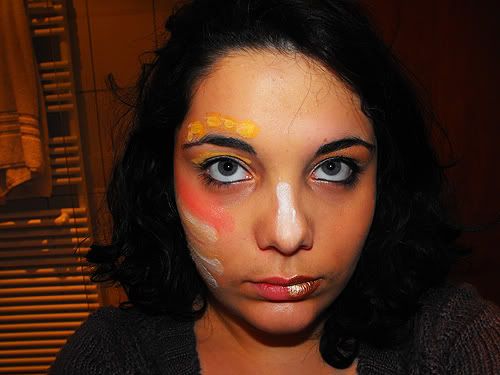 Now, a bit of a close up...the gold lips somehow weren't as apparant in my pictures as in real life.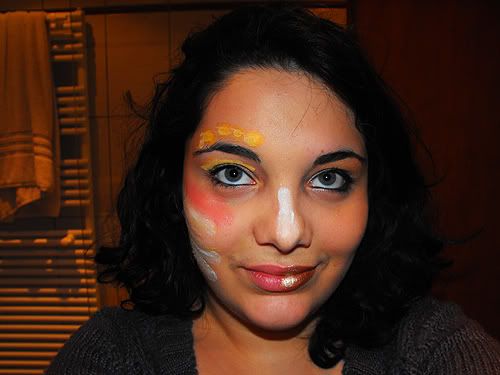 OH WOW IS THAT A SMILE??!!! At first I tried the same non smiling pose that the model had but I just look grumpy without a smile.
And finally, a close up with my eyes shut so you can see everything more detailled.
Again, don't forget to visit Alicia's link
HERE
and to take part, and if not that, then to ADVERTISE, as this is an amazingly creative idea and FUN :) xxx