So yesterday I finally escaped my house (being stuck at home due to a combination of depressing weather and far too much homework) and my best friend and I went to our local *cough thirty minutes by bus far away* shopping center to go shopping.
We left at ten past 5 and it was already getting dark and by the time we got there, it was dark which was definitely weird to me, yet sort of made it more fun as I just LOVE shopping at night time (ok, this time evening. But when I was visiting my grandparents i nengland in April, we went shopping in Tesco's at 10 pm. IT WAS SO COOL!:P ok...geek naty is leaving now)
So on to makeup, I decided to use my
sistah
as inspiration and did my usual liner but with gold eyeshadow to spruce it up :) Of course, when I say gold eyeshadow, I mean Urban Decay's Half-Baked as that is the best gold eyeshadow I have.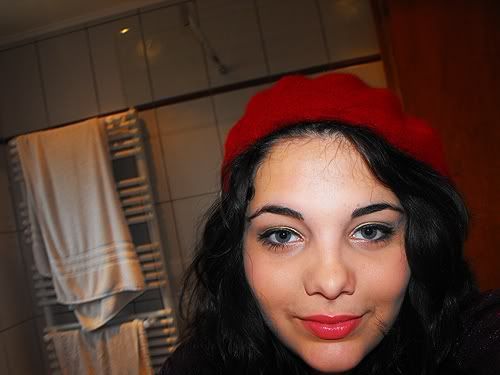 Eyes:

-Urban Decay Primer Potion (original)
-Urban Decay Half Baked
-Sleek Gel Liner
-Rimmel Glam Eyes Lash Flirt mascara
-Maybelline Collossal Volume mascara
-Benefit Brow Zings in Medium
-Rimmel Professional Eyebrow Pencil in Brown Black
Face:
-L'Oreal True Match Minerals in Golden Ivory
-Rimmel Stay Matte Pressed Powder in Transparent
-N.Y.C. Colour Wheel in Mocha Glow
-MeMeMe Poppy Tint
Lips:

-MUA Lipstick in shade 11
Wow, for once I remembered every product that I used yesterday! It's not often that I write a list of what I used but if you prefer it, let me know in the comments :) I'd also like to add that I ADORE the small of the MUA lipstick, it just smells lovely and it's so creamy!

I also used this excursion as an opportunity to wear my new red beret from H*M which I LOVE as well. I really hope I can hang on to this hat as the last two hats that I've had have both been carelessly left on the bus/school and therefore, have vanished :(

It was relatively simple, without proper blending and stuff, but I felt it didn't need anything extra :)
xxxxxxx BTW enter my giveaway ;) *shameless plug*