Erm, a bit belated much? I know that but as I shan't be posting this Saturday (most likely I won't be) as I shall be going on a day trip to Paris with my family where we will meet up with my uncle who I haven't seen in a few years, so that will be nice!
Anyway, for NYE's I felt like dressing up a little bit, despite not really going out.
So for my eyes, I basically did some shimmery/nude eyeshadows, most likely from the Urban Decay Book of Shadows II and then for my lips, I used L'Oreal's Glam Shine Lipstick Cream, the one that smells SO GOOD!
Excuse the shoddy application, by the way. My lip brush often gets misplaced for a few days at a time.
So here you can see my polka dot dress, which I tried to take a picture of but they didn't end up any good. It's from H&M and I'm not sure whether they're still selling it, but if they are and you like polka dots, you should get it as it's gorgeous! And also, they don't sell it in Luxembourg so teehee, no people running around with the same dress.
The necklace, on the other hand, is also by H&M and HAS been seen on someone else during school. Oh well, you can't have everything exclusively yours!
At least I know no one will have this gorgeous necklace (which I blogged about on Friday)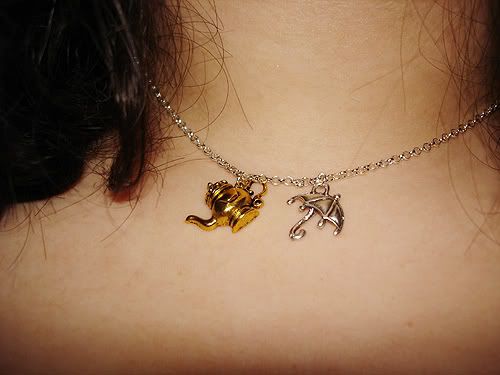 It's a clearer picture of my
essbeevee
necklace. Isn't it cute?
Anyway this post is scheduled for Tuesday at 12:00 so at that time, I shall be at school. Fun(!)