Well,
hello
there!
This is a very rare thing for me to be updating on a Monday night (ok, I can't finish this in 10 minutes, so probably Tuesday/Wednesday), but as I didn't update this weekend (has not been a fantastic one, that's all I'll give it), I felt compelled to update tonight.
I really need to stop using words that you generally use for essays in stuff like this, it makes people laugh when I use them in sentences and then that makes me, in turn, feel stupid.
So now it is Wednesday and I still haven't updated. I feel awful and I know that if you made a pie chart of my blog, 25% would be apologies and that. Theoretically, I have plenty of time, but it just goes away so quickly and then I realise I have no time to get on the computer. Ok, so moving on...
This post
was
originally going to be just the two Barry M lipglosses I acquired over the holidays, but then I realised I hadn't actually mentioned my No7 lipgloss in the previous lipgloss post, so I added that to it.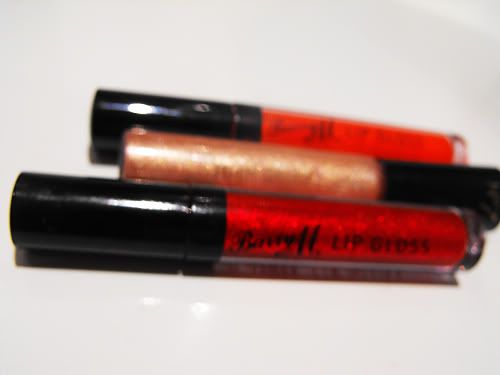 Soo...the first lipgloss is Barry M's Lipgloss Wand in Cherry Glitter was a Christmas present from
Steph
, the second was a Christmas present from the year before from my granny and has no shade name on it, so after a bit of investigating *coughgooglingcough*, I discovered that it is No 7's High Shine Lipgloss in Dream and then thirdly, we have Barry M's Lipgloss Wand in LE4, I believe, which was a limited edition
Spend £6 pounds and get this LE lipgloss for free!
in Boots.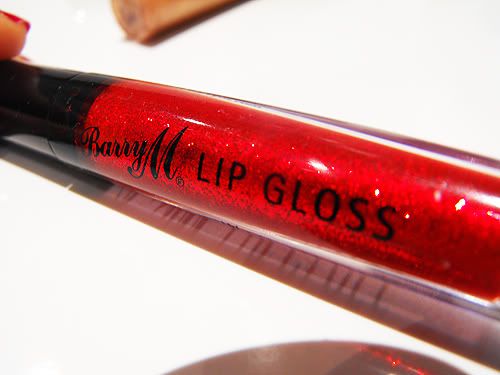 First up is the Barry M Lip Gloss Wand in Cherry Glitter. I feel a bit stupid describing this, as the name is spot on. It's cherry red and full of glitter, but the glitter is not silverish glitter that you get in most glittery glosses, but RED glitter. Which is pretty and makes me feel like staring at it for hours on end going 'prettyyyy...' and acting like my sister in front of the Chanel counter. I jest, dani, I jest. (No seriously, she is like that.)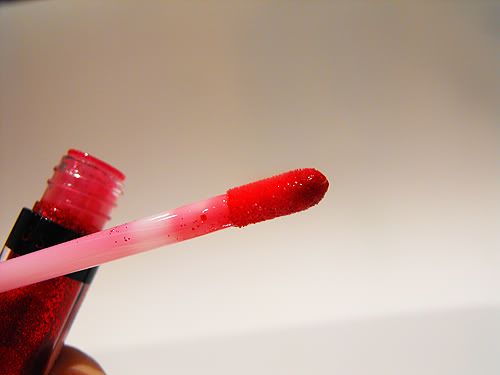 So the tube itself is actually quite misleading. One would think that it would be chock a block full of big glitter pieces, but as the photo shows, they're quite diddy. As usual, it's a typical lip gloss applicator, nothing special but it does the job. Another thing about this lip gloss is THE SMELL! Oh my god, it's definitely cherries and it makes me feel so hungry and just smells so good *drools*

I have swatches of all three lipglosses towards the end of the post, but as I like seeing lip swatches myself, here's one of me wearing the lip gloss.

And I'm actually wearing my glasses here, don't I look sexy?(!)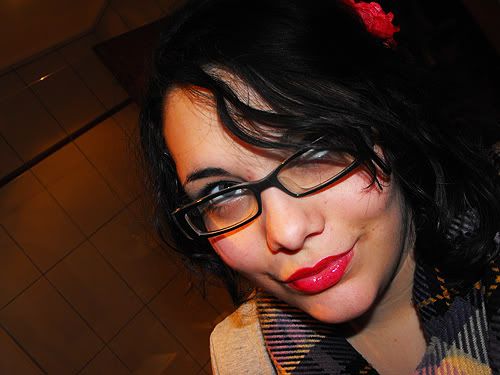 Excuse the bit of a silly pout, I'm not entirely sure why I was doing that. Anyway, it's quite a cool toned lipgloss and the glitter is a lot subtler than you think, so if the glitter puts you off this lip gloss, don't worry, because it's not that bad! You do have to watch out to apply it evenly, as it can be rather patchy, but that gets sorted out pretty quickly.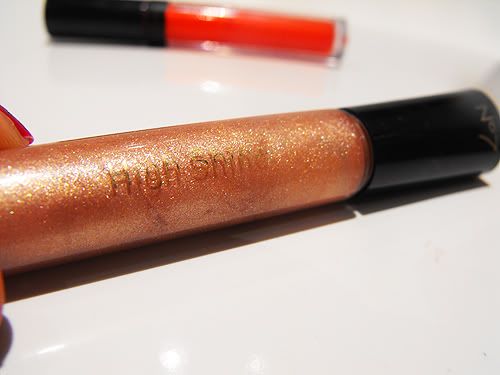 Next up is No 7 High Shine lip gloss in Dream. This is more of a shimmery nude gloss with a few sparkles.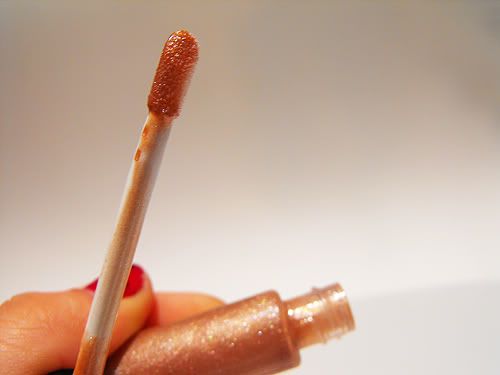 So again, another standard applicator. This hasn't really got a scent, which isn't necessarily a bad thing of course, as sometimes lipglosses without scents can be a nice change.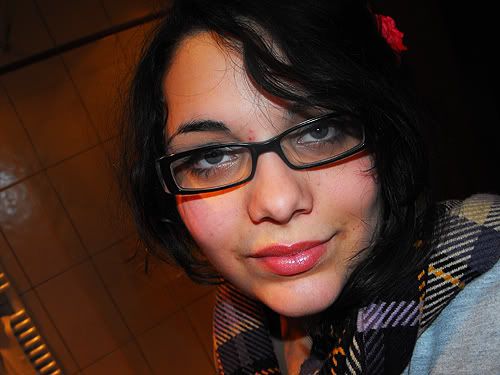 So, another geeky pic from me. Here you can see that, despite looking quite thick and pigmented, it still shows your lip colour and just gives it more of a shine and nude gloss look. Well, duh, considering it's a nude gloss..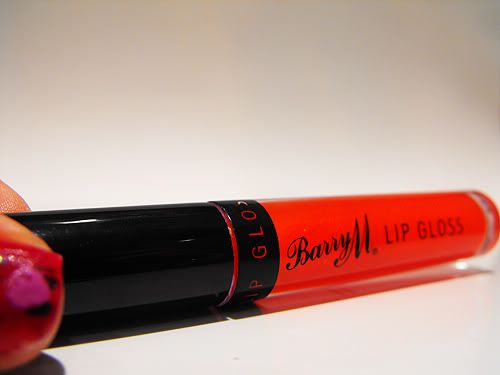 Last but not least, we have the Barry M Lip Gloss Wand in LE4, which was a LE lip gloss that you could get free in Boots if you spent £6 or over. I'm not sure if it's still going on, but it if is, it's certainly a great deal, as this is a lovely colour. It's quite unfortunate that this isn't in the permanent line.

Same as the previous one, this also has a standard applicator and funnily enough, also smells of cherries, although not quite as much as the other one. This is more of a sheer red, which is subtle to begin with, but can be built up if you want a bit more of a bold look, although it's not way out there, as it is just a gloss. It's quite decently pigmented and isn't patchy, unlike Cherry Glitter. I suspect that has something to do with the glitter, though. (Thanks, Sherlock!)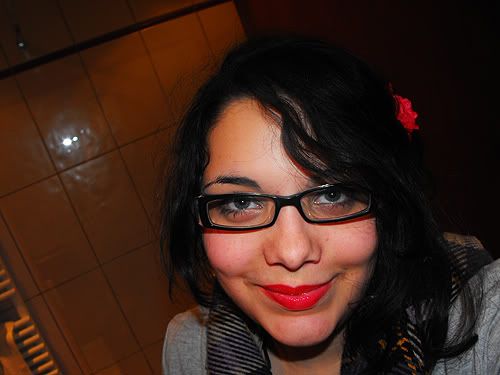 Here it's quite red on my lips, but it still has that sheer quality. The photo doesn't really do it justice, it's a lot redder in reality!




Et finalement, the swatches! From left in the order I reviewed them, the first two look a lot more glittery/shimmery than they are on the lips, so I suppose it's just as well I posted the pics with them all on my lips. These are all glosses that I really like, especially the Barry M ones and I would definitely recommend all of them!
So there you have it, a post that took a few days to come out. I hope you all like it and as I'm getting into lipgloss a bit more now, if anyone has any recommendations, please let me know!